Williston Student Rio Oshima Auditions for America's Got Talent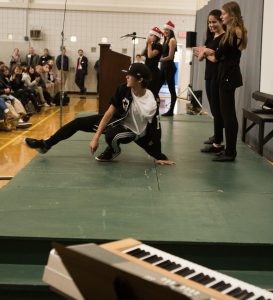 Hang on for a minute...we're trying to find some more stories you might like.
Rio Oshima '19 is planning on winning America's Got Talent.
To that end, Rio flew to Los Angeles on February 3 to participate in the America's Got Talent audition. Rio loves dancing and performing. Every study hall and all day on weekends, if you're looking for Rio you can easily find him dancing by himself in the Ford third floor common room, perfecting his craft.
America's Got Talent is a renowned talent show where people countrywide test their skills in front of a panel of judges to see how talented they really are. The cast of judges include: Simon Cowell, Heidi Klum, Howie Mandel, and more. Tyra Banks is the host.
Rio blended all of his talents into one big performance, which included dancing, singing, and playing the piano.
Rio performed and danced to a Michael Jackson dubstep remix of "Earth Song" that he made himself. Earth Song has been a favorite of his since he was 11, he said.
In order to combine singing, dancing, and piano, Rio had to get creative. Before he flew out for the performance, Rio had it all planned out.
"I'm going to come on the stage just like I'm a singer pianist and then I'm going drop my hat on purpose," Rio said. "Then I will pick up the hat while still playing piano and then start dancing to surprise the judges. I'm going to rip off my costume and become a dancer with dance clothes."
Rio flew to Los Angeles on February 1 for his audition, but there's a preliminary stage he must complete before competing in front of the judges.
"The first stage is only in front of producers, but the second stage is in front of the judges if I make it," Rio said. "There will be a lot of people there and if I move on from the first stage I'll go in front of the judges. I'm so excited."
Rio stayed in a hotel with his parents (who flew from Japan) right across from the Pasadena Convention Center where he performed. The line to perform was extremely long; Rio arrived at the convention center at 10 a.m., but didn't perform until 6 p.m.
"The performance went pretty well for me," Rio said. "I didn't make any mistakes, but the volume of the piano was so low. I could hear it but I'm not sure if the judges could hear it clearly."
"They're looking for not only skill but a unique performance," Rio explained. "I created something new. It's more like an unusual performance because most people just sing or dance. That's why they can't win but I can."
Rio primarily wants to win for the people around him at Williston who encourage him every day.
"I think I made it, duh," Rio said. "If I didn't make it that would be embarrassing. Everybody tells me that I can do it and make it so I don't want to let them down, but I can always try out again next year even if I don't make it."