The New Normal of Summer Camps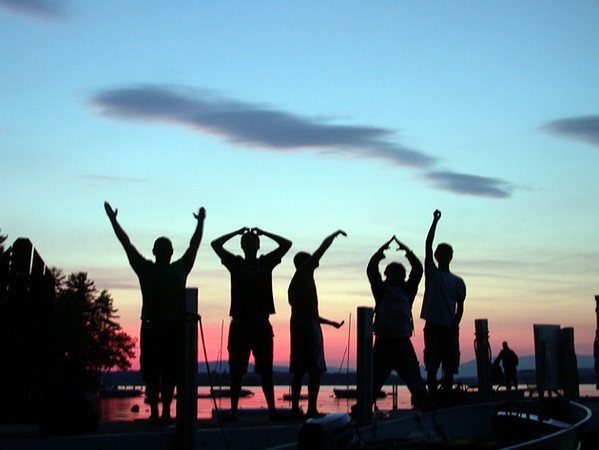 With summer camps all across the United States being cancelled, many students and families are suddenly left with the task of rethinking their usual plans.
Due to extended social distancing efforts, many summer camps have already announced full cancelations for the summer of 2020. Because of this sudden change, many working families must now find another way to keep their kids occupied, and many students at Williston are grappling with the reality of not getting to see their camp friends for another full year.
Kyle Hanford, a 9th grade English teacher and parent of three elementary school age children, is concerned largely for the campers at Double H Ranch, a camp in the Adirondacks for kids and teens with critical or life-threatening illnesses.
"That is what these kids look forward to, their one week up at camp, and their not going to be able to go," he stated. "That's one of those things that's just heartbreaking for me."
Hanford was hoping to send his oldest son, Ryan, to Camp Belknap. Camp Belknap, an all-boys summer camp in New Hampshire, is run by one of his former Williston classmates, Seth Kassels '97. Hanford and his family planned to get a cabin near the campsite as well, as his wife, Lindsay, was offered a position as a nurse at the camp. However, due to the pandemic, plans are up in the air.
"They haven't made any decisions yet; they're waiting to talk to their board I guess this next week, but that's kind of where we're at," he told The Willistonian.
Parents are also concerned about how responsible the campers surrounding their child would be. While many teenagers continue to follow social distancing guidelines, some disregard them.
Marjory Postal, a parent of a 13-year-old daughter in Florence Mass., worries about not knowing who she would be sending her daughter to camp with.
"When you go to a camp you have no control over who's gonna be there, so it's hard," she said. "If they were all responsible kids, I think it could work, but if they're not it could be a problem."
Postal also believes programs should implement certain rules and precautions in order to welcome campers this summer.
"They'd probably have to cut back the number of kids … the ones that would provide transportation would have to stop doing that and have kids dropped off," she stated. "I guess everyone would have to wear masks … they'd have to do a lot of handwashing and keep a lot of space between kids, which would be very challenging."
The CDC outlines the general expectations for social distancing to be: staying at least six feet apart from those outside your immediate family, refraining from gathering in groups, and staying out of crowded areas. On May 6, an order from Governor Baker, the Governor of Massachusetts, requiring the wearing of facemasks in all public settings where social distancing is not possible went into effect.
Many camps are also struggling with the impending lack of campers this summer. Kurt Heidinger, the Executive Director of Biocitizen, a school specializing in Field Environmental Philosophy in Massachusetts, California, Chile, and New York, is in need of donations from families to keep the program going.
"The impact on our school has already been devastating. We are currently unable to cover operating expenses — such as staff salaries, insurance costs, and infrastructure payments," he stated. "If your summer session is cancelled or you have to withdraw, we are asking families to consider donating tuition payments … We are also accepting emergency donations to keep us afloat."
Biocitizen so far has not fully cancelled for the summer, as many of the sessions carry out into August. However, Heidinger tells parents things could shift as the situation and government mandates develop.
"At present, that means scheduled Our Place sessions will be held. Since it's possible that some sessions may be cancelled for June, but remain open for July and August, we have a "wait-and-see" cancellation policy," Heidinger told parents.
Stephanie Vordick, an adviser from the summer camp guide website Tips and Trips on Camps, is also hopeful of camps remaining open. She believes camps will find a way to work around the challenges the virus presents.
"Camp directors are a resourceful and creative bunch, and they will make camp work if it's at all possible," she told the BBC. "Summer programs have previously handled measles outbreaks, meningitis scares, Zika, H1N1, and other challenges. Very few have canceled their plans at this point."
Other camps, such as overnight residential programs, do not believe running camp at all this summer to be safe.
As of April 28, the United states hit over 1,000,000 confirmed cases of Covid-19, ranking the country far above the rest of the world in total cases, according to Johns Hopkins University & Medicine. Though parts of the country begin to reopen, many programs and businesses remain shuttered.
Paula Bookidis, CEO of Girl Scouts of Central Texas, believed the program simply could not safely house the girls during the pandemic.
"The girls are often in cabins or other dormitory situations and we just didn't feel like we have the ability to keep them safe," Bookidis told the BBC.