Student Coaches For The Win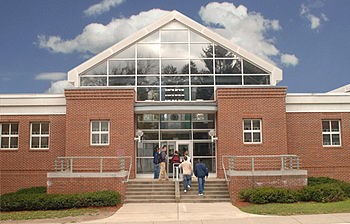 Hang on for a minute...we're trying to find some more stories you might like.
During wrestling matches, seventh grader Owen Dietrich turns for guidance from his coach, who also happens to be his schoolmate, Harrison Winrow '18.
"I like having Harrison for a coach. It was great being with him in the play and now he is coaching and helping me understand moves on the mat," Owen said.
Many students at Williston are involved in some sort of afternoon sport. But few students turn to listen to their coach in the middle of a game to see one of their fellow schoolmates giving instruction and pumping them up.
This year, a few older students are fulfilling their afternoon requirement by coaching teams or helping in the training room. Leading a lower-level team has brought joy and responsibility for those who were sidelined by injury, or who wanted a new approach to their afternoon activity.
Two to four students are typically student coaches each year, said Mr. Conroy, Williston's athletic director. Conroy, who has worked at the school for 18 years and always had student coaches, said, "In most cases, it has been a terrific experience for the students who end up assisting with younger teams."
Harrison Winrow '18, Ellie Scott '18 and Danny Kissane '19 will all take some responsibility as a coach this year. Harrison is sidelined due to injury, but the others chose to be a coach. Harrison coaches wrestling, Ellie will coach lacrosse, and Danny coaches basketball. Also, seniors Vikram Dalmiya and Jordan Strum are student trainers, shadowing and helping the professional trainers, Mr. Kearney and Ms. Brosseau.
Harrison, a captain of the varsity wrestling team, was out for the season due to an ankle injury. Now, he is the squad's third coach, under the guidance of Coach KaneLong and Coach White, and the match day coach for the JV.
"With Harrison's injury and interest in helping out, Coach KaneLong felt confident that Harrison would really enjoy it and that the young wrestlers would really benefit from his tutelage," said Conroy. If Harrison had not decided to coach, the school would have had to hire someone or seek a volunteer.
Harrison was originally upset he would not be able to participate in the sport he has played for seven years, and even believed he should look for a different winter activity. But when the option of coaching was suggested, Harrison was thrilled. "I enjoy being able to pass on my understanding and love of wrestling to the first-year members of the team," he said. "I love seeing the same fire in the eyes of the new members of the team that I had when I first started wrestling."
Harrison helps coach the less-experienced wrestlers during practice, and during match days he is the sole coach representing the JV squad if the varsity team is at a different match. A faculty volunteer drives the bus to the host school, but after that everything is up to Harrison. He gives the wrestlers pep talks and helps them assess their opponents, coaching them from the corner while they wrestle. He said he is often mistaken for a wrestler, and that other coaches seem "rather unimpressed" that he is the coach.
This does not bother Harrison. "I don't need to be taken seriously by other coaches, once I send Owen Dietrich out on the mat to chew up, spit out, and pin anyone they put in front of him, my job is done," he said. "The Williston wrestlers and I earn the respect of any team we meet on the road."
Although he was depressed and frustrated by his injury, Harrison said he has gained a new outlook from the coaches' side. "Seeing how each wrestler's unique style seeps into their technique is fascinating to see from a coach's perspective," he said.
Harrison enjoys teaching variations of moves to the younger wrestlers, allowing them to add "their own spice on a takedown or escape." He wants to continue to pursue coaching in his future. "Especially once my early-onset arthritis kicks in with this bum ankle, I can be a scraggly old wrestling coach with a limp, liver spots, and a salty disposition. Maybe I'll get an eyepatch too," he joked.
Ellie will be coaching girls' thirds lacrosse with Ms. Sawyer this spring. In past years she ran track or did JV golf, but this year she wants to coach with her advisor and be a mentor to the girls on the team. "I want to do this not only because Ms. Sawyer is the best and I want to be on her team, but because I also just really like getting to know the younger students at Williston," Ellie said. "I think that being a role model to the middle school students sounds fun and exciting."
Sawyer has been coaching for 16 years and this will be her 11th year with a student coach. "I love having student coaches," she said. "It's a great way for kids to participate in something and go at it with a different angle."
Ellie has little lacrosse experience, but is convinced it will be fun. "I think that just being a supportive older student who is there for the younger girls will be a rewarding experience," she said.
Sawyer said the girls on the team, typically middle schoolers, love having a student coach. "We should do more things where kids get to forge real connections with kids who are younger than they are," she said. "Both sides really benefit."
As well as participating in the afternoon program as a coach, some students who are interested in the medical field are shadowing Williston's professional trainers. Seniors Vikram Dalmiya and Jordan Strum have both taken part in this.
Ms. Brousseau, Williston's associate director of athletics and trainer, has worked with about five student trainers in her time here and said it can be a great learning opportunity.
Vik and Jordan are never fully responsible in the training room. "There is always supervision," said Brousseau. "It is really just to observe, soak in, and ask questions without any kind of expectations of knowing things."
Both Vik and Jordan are grateful for the opportunity. "I have been interested in emergency medicine for many years but needed more experience and practice," said Vik. "Working with the trainers allowed me to learn about sports medicine and see if it is a field I am interested in, plus I was allowed to practice emergency medicine." Vik applied for a special project in the fall and made it his afternoon program. He coordinated his hours so he also worked for the Easthampton Fire Department.
Jordan's situation is different from Vik's. She is interested in physical therapy, and she helps out in the training room in addition to fulfilling her winter afternoon requirement, Athletic Performance. "I wanted to help out in the training room because I've always thought doing something like athletic training could be cool, but I've never first hand experienced it, so it's nice to be certain that I could be happy doing it for a living," she said.
"It's really cool hanging out in the training room," said Jordan. "Mr. Kearney and Ms. B are so nice and so willing to help me learn. I just hang out and listen in when they're treating students and they'll explain their thought process to me as they're diagnosing kids."
Brosseau is glad that Williston can offer this experience. She said that these students' goals in sports medicine and coaching often go beyond Williston, and it is exciting to build the foundation and interest.
Alex Garcia '12 remembers coaching boys' thirds basketball with Conroy his junior and senior years at Williston. Now, Alex is graduate of Cornell as well as a teacher and head coach of soccer and basketball at Squaw Valley Academy in Lake Tahoe, California.
Alex said he remembered having a student coach his freshman year on thirds basketball and when he was a junior it was "an ideal fit" for him. His two seasons with the team were fun and successful. "It was a pretty unique experience to have as a student, and I'm thankful to Coach Conroy for giving me the opportunity," he said. "It was great to see what coaching and managing a team of different personalities was like while I was still a high school student."
At Cornell, Alex continued his passion for coaching by getting involved with the football team. He was a filmer freshman year, but worked his way up to Head Student Manager and Offensive Assistant, which involved facilitating practice, scouting opponent's defense, helping with recruitment and more.
He credits his early experience at Williston for helping him find his interest. "If you can see coaching or working with kids in your future, definitely try it out at the first chance you get," he said.
Brosseau said both student coaching and student training is "greatly appreciated" and good for both sides. "[The students] are contributing to the program but they also get a lot in return," she said.
She added that the skills that come with coaching are valuable. "It is just a lifelong skill and there is a part of teaching and compassion that goes into that," she said. "Being able to see that develop in students at this age and level is pretty awesome."