Massive Oil Spill Damages East China Sea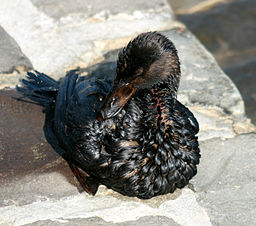 Hang on for a minute...we're trying to find some more stories you might like.
A massive oil spill has polluted more than 100 square miles of the East China Sea.
On January 7, the Iranian oil tanker named "Sanchi" collided with the Hong Kong Crystal Freighter, which was full of grain.
Sanchi had a cargo of over a million barrels of oil from Iran that was on the way to South Korea; the cargo was worth an estimated $60 million dollars.
The collision took place in the East China Sea, instantly putting Sanchi into an inferno of flames and releasing a slick of oil that took up 58-square miles.
Sanchi's fiery fury of flames was extinguished by the Japanese Coast Guard.
As of January 17, the spread of oil covered 101 square miles of the ocean. Strong winds are pushing the oil slicks just some 200 miles off the coast of Naha, Japan.
The Chinese, South Korean, and Japanese governments are all working together to contain the oil spill.
The sunk tanker Sanchi is still releasing toxics into the water in crucial breeding grounds to many marine lives.
Greenpeace, an environmentalist organization, expressed their concern, stating, "The area is also on the pathway of many migratory marine mammals such as, the humpback whale, grey whale and right whale."
The crash also occurred over the Zhoushan shipping grounds, which was thought to be one of the richest fishing grounds in China.
Since Sanchi was burning for so long and in poor condition, it is almost a certainty that all of the cargo oil was breached and is still pouring into the ocean, which would make the accident the largest environmental release of petroleum condensate ever.
Sanchi was carrying 32 sailors consisting of 30 Iranians and two Bangladeshis. Only two dead bodies have been recovered; the rest of the crew are presumed dead. The search for the rest of the missing bodies has been called off until further notice. The Hong Kong Crystal Freighter crew was rescued with no reported injuries.
Iran's government held a day of mourning on January 8t to honor the brave mariners who died in the course of their mission.
No witnesses could describe how the two boats collided or what caused the accident.
This is the worst oil spill since the Deepwater Horizon BP spill in the Gulf of Mexico back in 2010, when 3.19 million barrels of oil were leaked into the Gulf of Mexico. The Exxon Valdez oil spill was the next worst , devastating the beautiful wildlife of Prince William Sound, Alaska, by leaking 11 million gallons of oil into the ocean in 1989.