Mexico City Plagued by Building Collapses and Corruption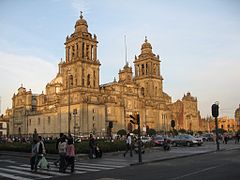 Hang on for a minute...we're trying to find some more stories you might like.
It's safe to say that it has not been a great year for Mexican architecture. In 2017 a series of buildings in Mexico City collapsed after an earthquake, and on July 18 of this summer, a new shopping mall finally collapsed after being riddled with building problems.
A new report published by the Mexicans Against Corruption and Impunity foundation has found that "dozens of buildings that collapsed in the [2017] quake had been shoddily constructed and wrongly deemed safe by building inspectors."
Salvador Camarena, who worked with the group on the report, told the Los Angeles Times that there was "a human explanation" for why some buildings remained upright while their neighbors collapsed.
Many find these reports unsettling, as Mexico has been considered a leader in earthquake safety. These regulations were put in place after a horrific earthquake that killed thousands in 1985.
Citizens are also now questioning if the 288 deaths from the 2017 collapse could have been avoided if the government had enforced their own regulations.
"Earthquakes don't kill people," Camarena said. "Corruption does."
In 2016, the National Autonomous University of Mexico published a study that warned about conflicts of interest within the government.
The report stated that many of the city's buildings did not meet the legal requirements and therefore "would have an inadequate performance during an intense earthquake."
The Mexicans Against Corruption report found that at least 28 buildings were plagued with corruption in the safety inspection process.
Directly after the earthquake, the Los Angeles Times reported that then-mayor Miguel Angel Mancera suggested that "noncompliance with the new regulations was not a major factor in the damage toll," which the new report directly contradicts.
In mid-July, a new shopping mall in Mexico City also collapsed. Although there were no fatalities, the incident has left many to question the effectiveness of the legislation put in place by the government.
The builders of the mall were aware of soil problems underneath the building that made the structure unsound, according to The Guardian.
The newspaper noted that "the risk posed by substandard building has been a longstanding issue in Mexico City, where many poorly built or designed buildings collapsed in the city's 1985 and 2017 earthquakes."
Even the mayor of Mexico City, Jose Ramon Amieva called the collapse "a case of negligence."
Some political organizers in the city are hoping that these crisis in corruption will encourage people to vote.
According to the group "Latinno," which focuses on innovations for democracy in Latin America, there is only 10% direct voting in Mexico. Similarly, there is only 54% citizen representation. The organization also reported that there was only 35% accountability by government officials.
The group is cautiously optimistic, however, noting on its website that Mexico has created 252 total innovations that are positively affecting its civil society. Many groups are encouraging Mexican citizens to get out and vote for leaders who will end corruption, and hopefully, put a stop to these tragic deaths.