Even With Students Gone, Tandem Thrives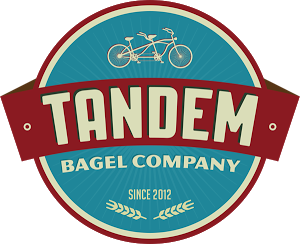 Hang on for a minute...we're trying to find some more stories you might like.
One would think business at Tandem Bagel would decline over the summer when Williston students go home, but this is not the case at all.
In fact, Tandem still sells up to 2,100 bagels a day to people from all over the greater Easthampton area. That's consistent with year-round sales, said co-owner Brian Greenwood.
Sales depend mainly on the weather because it is such a big walking destination. Workers claim that people take longer lunches and want to sit outside so they will make the trip. If it is cold or rainy, Williston kids do not want to take the walk. So, while a shift in clientele occurs in the warm months things stay fairly steady.
Not only deos Tandem thrive in Easthampton, but they also have a store in the Northampton Athletic Club. They added this location in March 2014, just a year after opening in Easthampton.
Shannon and Brian Greenwood, who own Tandem along with another couple, love what they do.  "We deal with a lot of people and the interactions are all pretty positive," said Greenwood. "It's a fun, social environment and no one is in a bad mood after you give them food."
Ava McElhone Yates works at Tandem over the summer and felt that it was a supportive workplace that still pushed her out of her comfort zone. "It's busiest in the mornings and customers are often in a rush, so it can be difficult sometimes," Ava '17 said. "I love working there and it is interesting to get to talk with so many people. I also go in with friends all the time when I'm not working."
Since the beginning, they have worked to be as eco-friendly as possible. The Greenwoods realize that taking steps in this direction can be more costly but believe that it is worth it. They have even found they still turned a profit even when costs for buying certain products were raised.
Some of the initiatives they are taking are minimizing packaging and using compostable cups and containers. Bagels and sandwiches go out wrapped in just foil unless a bag is requested. Customers take their own napkins so they only take as many as they need instead of being given excess. They have switched to compostable salad and salad dressing containers, unbleached paper products, and compostable water cups.
Tandem has become a staple in Williston campus culture with their amazing food and drink along with their positive impact. "It has allowed me to strengthen all my ties to the community," said Shannon. "Ties locally, ties to business, and to Williston."