Eagles Take Home First Super Bowl Trophy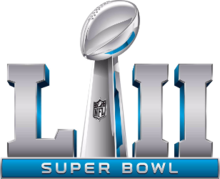 Hang on for a minute...we're trying to find some more stories you might like.
The Eagles finally won their first Super Bowl.
On Sunday February 4, the Eagles took down the Patriots in Super Bowl LII in Minnesota's US Bank Stadium, by a score of 41-33
The Eagles played with their backup Quarter Back Nick Foles at the helm. Former starter, Carson Wentz, tore his ACL on Sunday December 10 during their Week 14 game against the Los Angeles Rams, and effectively ended his season. AS a result, Eagles fans thought their super bowl chances was over. Foles, who at the start of the season considering retiring from the NFL due to failed stints with other teams, threw for 373 yards with three touchdowns and one interception.
This is the second time the Patriots and Eagles have faced off; the first meeting was in Super Bowl XXXVIII with the Patriots coming out on top by a score of 24-21.
For Patriot fans it is a night to forget as they were beaten despite their tough effort they couldn't pull of the win. Quarter Back Tom Brady put in a Valiant effort to get his 6th Super Bowl Championship ring, even though he lost his main wide receiver Brandin Cooks to a big hit, although he still had Rob Gronkowski and Danny Amendola to go to.
Sophomore David Chatson, from North Andover, MA, is a Patriots Fan; he had a little dilemma when choosing who to support,
" I am not a dedicated Pats fan, but I support them," he said. "There is some part of me that wanted the Eagles to win based on their history. It was hard to show my support for the Eagles in front of my family because they are die-hard Patriot Fans, and they were visibly distraught."
The Super Bowl loss didn't exactly go over so well with some local die-hard Patriot fans.
The University of Massachusetts Amherst announced Monday morning (Feb. 5) that six people were arrested and approximately a dozen others were injured during campus riots after the Patriots loss.
In a statement, the school said around 2,000 people gathered on the Southwest residential plaza after the game ended at 10:17 p.m., resulting in a number of fights breaking out and individuals throwing objects and setting off smoke bombs and firecrackers according to FOX 29.