Deadly Explosion Leaves 22 Dead at Concert in Manchester, England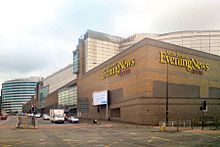 Hang on for a minute...we're trying to find some more stories you might like.
Tragedy struck yesterday (May 22) at an Ariana Grande concert in Manchester, England. Sky News reports 22 confirmed casualties after an explosion in the foyer of the Manchester Arena. Initial indications point to terrorism, and according to BBC, UK counterterrorism units are treating the incident as such.
One of the most circulated videos on the US television news coverage of the incident shows swarms concert-goers, mostly young girls, stampeding down the stairs of the venue while a group of adults stand motionless near the exits and pray that their children will be the next ones down the steps. It's an image that reminds us of the humanity behind the numerical values of the death-toll statistics.
These types of incidents have become all too common for our English-speaking brethren, and they highlight one of the main concerns of those who voted for Bexit. Even if this incident turns out not to be a product of Islamic terrorism, which seems highly unlikely at this point — ISIS has claimed responsibility for the attack — it is clear that the prevalence of extremism in England has taken its toll on the populace. One of the most destructive parts of terrorism is the fear that it instills into the communities of its victims. In Europe, it is becoming more and more sensible to avoid major events like these. European Islamists have successfully made their neighbors have to think twice about whether they should go to the next big event or just stay home and watch it on the telly.  And this is the first step in the Islamists' plan to destroy Western civilization, a culture founded on the gathering of people in the public square to exchange ideas that push the envelope.
Certainly, Islamic extremists do not approve of Western civilization, and they definitely do not approve of provocative singers like Ariana Grande. And in the current state of Europe, their stamp of approval is becoming more and more important, because he who carries the sword is always in power.