Coach Blayne Lifts Athletes to New Levels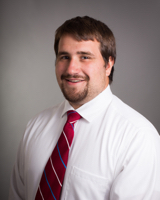 Hang on for a minute...we're trying to find some more stories you might like.
Strength and conditioning Coach Blayne Lapan is here at Williston to make a difference. And he's doing that every day, with tough love, a booming voice, and the skill and precise training to back it up.
Lapan, from Northampton, was hired as the Head Strength and Conditioning coach at Williston in 2013, and was eager to get things going right away.
"Strength and Conditioning in the prep realm is a new thing," said Lapan. "That seemed interesting to me, and to be able to affect and help so many athletes everyday across all sport is awesome.
For "Coach Blayne" as the students call him, the weight room is only part of the process. "We want to produce good athletes as well as good students," he said.
To that end, before every workout, Coach Blayne has students tap the big Williston shield on the weight room wall, reminding them, "That is who you represent and who you play for."
Coach Blayne creates and runs his own unique, sport-specific workout plans for each varsity programs in all three seasons as well as his own group, Athletic Performance (AP), which meets every weekday and Saturdays for speed training. This group is offered each season and is for athletes who do not necessarily have their main sport in a certain season, but want to maintain strength and conditioning.
In 2015, Coach Blayne was a key contributor in designing the new weight room that would take his program to the next level.
"Our goal was to keep fitness center but also intertwine it with the strength and conditioning with a community feel."
Before coming to Williston, Coach Blayne had an array of jobs in the sports and conditioning world. He worked at Conca Sports and Fitness in West Springfield, Pioneer Spine and Sports Physicians in Northampton, and Healthtrax in East Longmeadow, where he worked as Head of Sports Performance.
A graduate of Hampshire Regional High in Westhampton, Coach Blayne went on to major in Applied Exercise Science with a concentration in Strength and Conditioning at Springfield College.
Derek Cunha, Head Coach of the Boys Varsity Hockey Team called Coach Blayne a "huge asset to all the school's athletic programs."
"He affords our athletes the opportunity for college level training in season and out," Cunha said.
Coach Blayne's mission in his work is to develop correct movement patterns, and build strengths that function for all sports.