You Never Know What You'll Find: Thrifting at Parson's Closet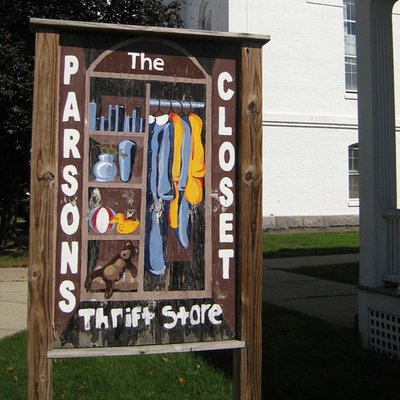 Hang on for a minute...we're trying to find some more stories you might like.
It may appear as an ordinary Victorian house, but don't let its look fool you. Parson's Closet, the thrift store located just outside campus gates in Easthampton, offers more than meets the eye.
Upon entering the store, one immediately sees the incredible variety of objects and clothing. The left section of the store is where you can find clothes, from coats and crewnecks to slippers and jeans. Parson's Closet, at 116 Main Street, is a donation-based thrift store, and all the money made goes to fund the Easthampton Congressional Church next door.
Many people, such as Joey Robbins '19, have found absolute gems while shopping.
"I got this ski patrol yellow American Eagle coat, which is incredibly warm and  probably one of a kind," Joey explained. "This coat [was] probably $400 originally and I got it for $6."
Goodwill Industries, one of the most recognizable names in secondhand shopping, says it has experienced an 84% increase in revenue from the sale of donated goods from 2007 to 2012, from $1.9 billion to $3.5 billion, according to CNN.  The resurgence of stores similar to Parson's Closet is easy to understand when looking at the advantages a thrift shop offers compared to regular retail stores.
For one, it's cheap. Especially Parson's Closet, because it doesn't price check with Google to adjust the price. If you're lucky, you might even find something of rare value. They are eco-friendly, as well: buying second-hand means keeping potential trash out of landfills. And lastly: you never know what you'll find. There's a certain thrill to walkto a store with $20 and not knowing what you'll walk out with.
Senior Solomon Neuhaus has been to Parson's Closet twice this year, and has found items he absolutely loves.
"I walked in before [Winter] break to see if there was anything I could profit from, and I spotted this long coat from Smith College's Water Polo team," Solomon told The Willistonian. "I wear it pretty much everyday now and it's honestly an amazing coat."
Junior Sahnet Ramirez  appreciates how the people at Williston all share a common love for this nifty little store, which is walking distance from school.
"Thrifting is definitely a trending thing, and because the people at this school are generally fairly wealthy, it's a fun thing to see these people getting extremely excited about $3 articles of clothing," Sahnet said. "I love going in not knowing what I'm [gonna] come out with."