Willympics Returns!
On Friday, September 23, the Williston Northampton School was a campus divided.
Each dorm on campus, and an army of day students, went head-to-head in Spikeball, wall sitting, cornhole, and many more games out on Sawyer Field. The events started with a grand entrance for each dorm. This was followed by a competition of who could yell the loudest. Everyone then dispersed to different events in the vicinity of Sawyer. Two people from each dorm competed in each competition. 
Willympics was started in 2016 in an effort to build some friendly competition between the dorms and to allow students to showcase talents few people knew they had. In the past, day students have not had much of a turnout. In fact, the day students have never won Willympics. This year however, a large number of day students showed up and showed out. The senior day students planned a tailgate in the day student parking lot before the festivities in order to incentivize people to come, and also for a great time. 
Senior Connor Capshaw, who cooked burgers at the day student tailgate, wanted to make the most of his final Willympics.  
"You only get one senior year," Connor said. "I knew we had a transportable grill at home so I wanted to help out. 
The tailgate went smoothly. Day students assembled in the parking lot at about 7:15 p.m. and were there until 8:00 when it was time to take the walk to Sawyer Field. At the tailgate, there were burgers, cornhole, face painting, and classic rock music blaring out two giant speakers on the back of a pickup truck. The walk to Sawyer was difficult to orchestrate, as everyone had a different idea of how best to run out onto the field. After much shushing and instruction, the day students sprinted out down the stairs of the bike path led by two flag bearers and two speaker carriers blasting "Welcome to the Jungle" by Guns N' Roses. 
Assistant Dean of Students, Erin Davey, organizes and runs Willympics every year. She was very impressed with day student participation this year. 
"The energy was there, the competition level was there, I loved that the day students rallied together prior to Willympics," Davey said. 
Davey had mixed feelings about the sportsmanship displayed at this year's Willympics. 
"There was some booing this year when we would introduce the dorms; I'm not a fan of that," Davey noted. "Healthy competition, nudging people, getting in people's heads, that's all part of the game, but reveling in people's success is also cool." 
Davey also reflected on past Willympics. 
"The first time we did the wall sit, back when we had Willympics in the gym, they held it for 30 minutes." 
Even more remarkable was this year's wall sit in which new senior Miranda Calderone, and Junior Austin Briggs sat idle with their backs against the brick athletic center wall with their feet planted firmly into the grass for over two hours.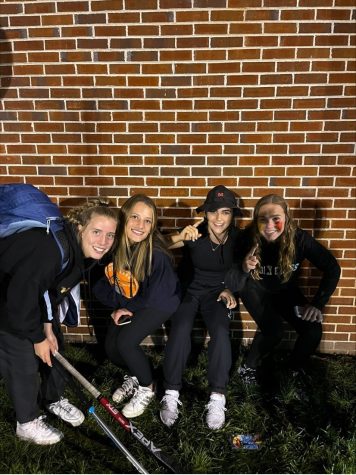 Miranda recalled what got her through those two grueling hours. 
"I have to give credit to my girls at EMV for bringing the energy," Miranda said, "I was also very determined to beat the boys I was going against and be the last person sitting." 
Miranda commended her competitors for great competition, displaying both sides of Ms. Davey's sentiments to be competitive while still appreciating the success of her peers. 
Leave a Comment