Williston's 173rd Convocation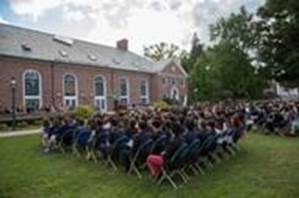 Williston formally commenced its 173rd year with Convocation on Monday, September 16th.
This year's guest speaker was David E. Sullivan, Northwestern District Attorney, Easthampton resident, and father of two Williston graduates.
Mr. Sullivan began his speech by thanking the faculty and staff of Williston who guided his daughters on their educational journey. "The Williston experience gave them the experience to be engaged thinkers and better people."
Mr. Sullivan told the students that they are the future. "I believe it with all my heart that each student that I see here tonight has the unique ability and opportunity to develop the character, passion, the brilliance to create positive changes for your school, your community, your world."
Much of what Mr. Sullivan said seemed to be fueled by a confession he made at the end of his speech. "I wish I made more of my high school experience." He wants Williston students to learn from his mistake of not taking advantage of an opportunity. This went along with what Head of School Bob Hill said during his brief remarks before Mr. Sullivan took the podium. "Be open to the endless possibilities that are stretched before you," Hill said.
Mr. Sullivan wants students to not just make the most of their time at Williston, but to also make life count, instead of just counting dollars. "Making our lives count is far better and far more important than counting the dollars we accumulate."
He urged students to find a passion, even it means having twenty jobs just to find that passion. "Living with conviction and a sense of purpose will define you as a person." Mr. Sullivan has been an attorney for over 25 years, working on thousands of criminal and civil cases. In 2008, Mr. Sullivan received the Massachusetts Bar Foundation's Presidents Award for "extraordinary volunteerism, leadership, and commitment to increasing access to justice in Massachusetts."
However, Mr. Sullivan did not find his passion of justice and helping others immediately. He rattled off twenty jobs he held–or as he joked, couldn't hold–including landscaper, telephone operator, a cook, an assembly line worker, a custodian, and even owned his own chimney-sweep company. "There wasn't a job I wouldn't do!"
Mr. Sullivan reminded students that they should appreciate the blessings they have been given of the caring teachers and staff at Williston. He told students to not just appreciate what Williston has given them, but to use it to do big things. "As a Williston student, you are given a wonderful opportunity to dream big and build a good life."
Senior Class President Maddie Stern gave a brief speech before Mr. Sullivan was introduced, but the two speeches had similar points. "Don't wait to appreciate and love everything Williston is for you," said Stern. While teachers will put an emphasis on textbook learning, Stern said, she will stress pure learning. "Look around you, each one of these people has something very important to teach you, something you can't gain from a book."
Before giving his speech, Mr. Sullivan announced that he would be handing out a gift certificate to the Tandem Bagel Company worth free bagels for a trimester. Students waited anxiously until the end of his speech to hear the winner. The gift certificate was given to the one student with "DA #1" on the back of his or her Convocation program.
The ceremony was closed with the singing of the school's Alma Mater, "O Williston." Students then headed off to class dinner, with seniors attending the annual formal Senior Dinner.