Williston Welcomes David Chatson '20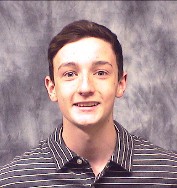 As the first trimester comes to a close and the second trimester is just beginning, a few new faces can be found around campus. Officially stated by Mr. Hill during Williston's first assembly back from Thanksgiving, five new students have joined us.
One of those students is David Chatson, a new sophomore from North Andover MA. David is the first sophomore to live in Ford Hall in a long time.
"It is a little weird," stated David. "It might be preferable to be in an underclassmen dorm, but Ford is great, right next to the dining hall and in the center of campus" David added.
Students in Ford Hall were surprised to see a sophomore in the dorm residents cheered and congratulated him at the dorm meet when David was first introduced. "I think it's good," commented Senior Proctor and Ford Hall resident Jack Phelan.
"Instead of it just being upper classmen, now we have an under classman, and we are going to try to make that transition as easy as possible for him." Phelan added.
David is very excited to be joining Williston's community, and has enjoyed his transition so far. "I've been welcomed by everyone that I have met so far. I haven't encountered one person who was rude or was not willing to introduce themselves."
This sense of community is exactly what David was looking for. David did not enjoy his freshman year and beginning of his sophomore year at his previous school, Loomis Chaffee. David stated that the community at Loomis was not very supportive, and it seemed to be a more competitive environment.
David commented, "People would try to put other people down to make themselves look better or feel better, and I am not one to make others feel bad because somebody didn't perform well on a test."
There are a lot of things David looks forward to doing at Williston. He has already started to appreciate Williston's academic support system. "The academic support system is more robust here than it was at Loomis," stated David, and his plans on taking advantage of this support system to further enhance his time management skills.
David is also already enjoying being a part of the JV Squash team, and is looking forward to being a part of the Boys Water Polo team next fall, as he hopes to play water polo in college.