"White Paper" Protests Break Out in China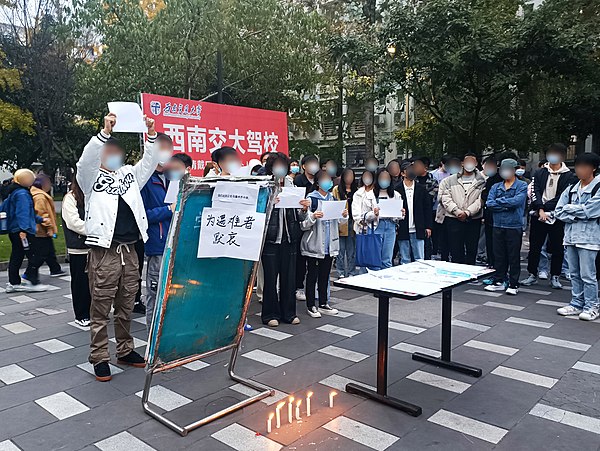 Widespread "white paper" protests in China have revealed discontent towards the country's harsh Covid policies, leading to anti-government sentiment and calls for change.
Frustration towards stringent Covid policies and constant lockdowns in Chinese cities reached a breaking point after a fire in an apartment in Urumqi, Xinjiang, on November 24. Urumqi, a northwest city of 3.5 million, has been under a lockdown since August, yet its daily Covid numbers remain relatively low, around 100.
Rescue efforts for the fire were delayed because of physical barriers set in place to prevent people from leaving their apartments, which led to ten deaths and nine injuries.
Tens of thousands of protestors, mostly young people, gathered in cities to express their anger at the strict Covid policies. Such policies included digital surveillance of people, mandatory testing, and lockdowns that confined people to their homes for weeks or even months. In response, the police have adopted harsh measures to shut down protests.
However, the government has relaxed its zero-Covid policies as of December 6, which include allowing infected people with mild or no symptoms to quarantine at home, and eliminating testing for people travelling within the country.
"Beijing largely did away on Wednesday with rules requiring mass testing, limited the scope of lockdowns and scrapped mandatory hospitalization and mass quarantines. It also ordered pharmacies not to ban or control the sale of cold and flu medication — a policy enforced in some places to prevent residents from using over-the-counter drugs to reduce fevers and avoid detection," according to the New York Times.
In recent years, China has imposed harsh zero-Covid policies to combat rising Covid numbers. "White paper" protests across China have revealed the simmering discontent under the surface and hopes for a more liberal and democratic China. Protestors hold up pieces of white paper to symbolize censorship and their inability to express their opinions.
These are the largest-scale protests against the Chinese government since the 1989 Tiananmen Square protests, which could potentially challenge President Xi Jinping's rule and legitimacy in the coming years.
The Tiananmen Square protests were student-led protests demanding greater political freedom, free speech, and free press. On June 4, 1989, armed troops with tanks opened fire on protestors. China had reported 200 civilian deaths, but recent documents report the number to be around 10,000. Discussion of the Tiananmen Square massacre is still repressed in China, with younger generations not having much awareness of it.
Junior Mary Zhou, from Shanghai, China, criticized the Chinese government's unforthcoming approach in relaying information to the public.
"The government did not provide people with the opportunity to access important information, including information regarding the Covid vaccine and the number of Covid cases," she said.
Ha Le, a junior from Hanoi, Vietnam, extended her sympathy for those affected by China's harsh lockdown policies.
"I think it's pretty brutal for the people right now," she said. "I feel so bad for the people who need to quarantine… not knowing what will happen and how their family are doing."
Mary is not worried about the protests disrupting her daily life, but feels for her friends back at home.
"I'm not personally affected by the protests since my family is currently in the U.S., but my friends in China are definitely affected," she said.
Mary is optimistic about the lasting impact of the protests on social media, yet does not think the protests will last long with government intervention. So far, cities in China have experienced police patrolling streets, checking cell phones, and even calling some demonstrators to warn them against protesting.
"The government has already taken action against the protests, which is why I think the protests will not last," she said. "However, people are still very vocal on social media so [the protests] won't die down anytime soon."
"I feel like it's a good sign that Chinese people are speaking up for themselves," she added.
With so many places relaxing their Covid policies, China is an anomaly. Requirements like mandatory testing and long quarantine periods for travelers are some of the many rules citizens must abide by.
China's zero-Covid policies, though unsparing, have proven to be effective.
According to the BBC, "Strict lockdowns mean China's death toll has stayed low ever since the start of the pandemic — the official figure is just over 5,200. This is equal to only three Covid deaths in every million in China, compared with 3,000 per million in the US and 2,400 per million in the UK."
New Covid cases are expected to skyrocket after the easing of restrictions. There are approximately 28,508 new local Covid cases as of Thursday, December 8.
Leave a Comment