"Bird Box" Sparks Serious Conversations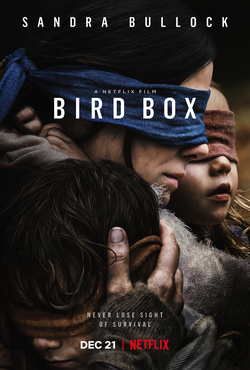 A dark force is decimating the world's population — and all the while it's captivating audiences and making them confront some serious societal issues.
In the Netflix horror movie "Bird Box," Sandra Bullock stars as Malorie Hayes, a survivor and mother of two kids in a post-apocalyptic world where opening your eyes results in the impulse and need to commit suicide.
The movie, released Dec. 21, is gaining attention because it is said to deal with mental illness, suicide, and the dangers of social media, among other pressing issues.
At the beginning of the movie, Malorie is pregnant and, while in hiding, gives birth to her son. Another survivor dies after giving birth side by side to Malorie; Malorie takes this woman's daughter in.
Malorie  is not your ideal movie mother; she is a full-on drill sergeant who raises her kids as if they are going to war. Matthew Porter, Psychology and Child Development teacher, recently watched "Bird Box," and appreciated the film, although he said "it left a lot of unanswered questions."
Porter explained that the movie "helped show that there can be positives and negatives in any scenario. In this situation, the blind people benefited, but most of the time we think that their life is tough."
"Bird Box" is gaining such attention because it is said to help open viewers eyes by representing the unseen monsters that conquer our world. Blindfolds, invisible monsters, and chirping birds all appear as symbols of mental illness.
In a interview with the TODAY show, Bullock said the film is, also "a metaphor for motherhood, what's going on socially in the world." She added, "I think we're kind of getting to that place where we're not looking at people anymore. We're all very isolated."
Porter does not feel that society is blind to mental illness, "but it's not of high priority." He noted that "recent scenarios are helping us realize the importance of mental illness in society."
Gabe Lui, '20, added that "people with mental issues often seem to have an overlying issue that bothers them, like a creature talking to them in their head."
According to the UK newspaper The Sun, "Bird Box" wanted to show what is like to deal with a mental illness by using the movie plot as metaphors. "These are the people who deal with their demons daily," the article said.
One of the most significant parts of the movie is the cautionary tale about social media. An early scene shows Malorie painting people that are close together but look lonely.
Online reviews and criticism has suggested that the entire film's meaning is about our unhealthy dependence on social media.
Personally, I feel the movie left people with a lot of unanswered questions on what message it's truly trying to present. But maybe that's the point.