Weightroom Gets Upgraded Equipment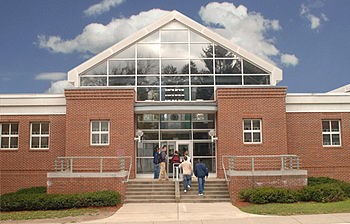 Over Spring break, Williston upgraded their weight room, and student athletes are reaping the benefits.
Before the upgrade, the Williston weight room had six squat racks, one cable machine, and old equipment that needed replacing. Team lift slots are usually only 30 minutes long, so the limited equipment made it difficult for athletes to get all of their exercises in the time allotted.
After many delays, the renovations took place during spring break and the results were incredible. The old equipment was replaced with twelve new squat racks with Williston logoed plates, 4 new cable machines, new dumbbells, new barbells and benches.
Student athletes were like kids in a playground as the equipment was put to use. With more equipment, lifts moved at a much faster pace and the weight room changed for the better.
Jean-Phillipe (JP) Giguere, a senior football player currently in the Athletic Performance program, has enjoyed the new space.
"it has been great using the new space especially with my AP group, everybody has room to do their exercises and their is no material restrictions," said JP, who uses the facility six to seven times a week.
Coach Blayne Lapan, Williston's strength and conditioning coach, spoke to the improvements he has noticed so far.
"The major benefits, one it allows us to maximize our space, fit more kids in a given group, allows us to get through a training session a little bit quicker a little bit more effectively, getting them out into study hall on time."
Coach Lapan said even small changes to the weight room have yielded big rewards.
"Vast majority positives, but a couple minor negatives are things that were overlooked like the height of the chin up bars, the style of barbell, minor things but nothing that effects what we do in the space, for the vast majority it's all good things." Coach Lapan said. "I would also eventually like to incorporate a turf section, but I am very pleased with the upgrades as of now."
Jayden Marshall, a post-graduate football player, only had good things to say about the new weight room.
"The benefits are the amount of space and amount of racks available for each person or group," he said. "All of the equipment is brand new and efficient to use. It's been great getting used to the new space since there are no downsides to it, it's clean and neater than before."
Leave a Comment