Trimester to End Without Traditional Assessments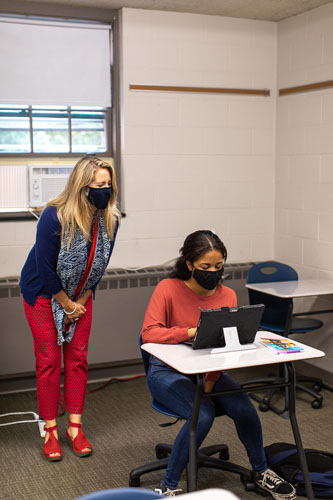 The first trimester this year, given the unprecedented global circumstances, will end without traditional exams.
Usually, the trimesters end with assessment weeks, with no classes and a special schedule only for assessments. However, this year, the first trimester is going to end in a normal green week. Second trimester will begin the following week and head into Thanksgiving Break.
The Academic Office mainly made this decision to reduce the students' workload. During Covid-19, students had to deal with pressure from various factors, such as keeping healthy, social distancing, and ensuring mental health.
"While we anticipate that some classes will still end the term with quizzes, tests, papers, or projects," the school explained in the Williston Weekly Update email on Oct 16, "our intention is to reduce the academic load for students toward the end of the trimester."
This decision is going to make life easier for students, especially seniors, since they have early decisions for colleges and universities as well as the American election [Nov. 3] coming up.
Jack Zhu, a senior from Shanghai, China, who is studying remotely right now, believes the modified trimester schedule is good news for international students and seniors. "For remote students and people who are applying to schools," he said, "it is a good thing."
He thinks that these two types of people – international students and those applying for school, both of which he is — will have some relief without the assessments. "These two types of people have the greatest pressure," he said, "so not having assessments is a kind of method to release stress."
Noel Song, another senior from Shanghai who is also doing remote study this year, has a neutral feeling toward assessments.
"We are going to have less mental burden and pressure," she said.
However, Noel is worried about the other forms of tasks teachers are going to give out in place of the assessments. "The thing is, we don't know if the teachers would just give us a big test or anything else," she said.
The Academic Office said that "weighty, cumulative assignment" are not expected for the final week.
Jenna Perry, a four-year senior and a boarder, is surprised about this news. "This is the first time that I've heard about this, what!?" she said.
She thinks that it is another thing that adds to the uniqueness of this already special year in the global pandemic. "I assume it's Covid safety measures," she said, "but since I already have a routine for assessment week, this is one more thing that makes this year so different."
Teachers have to change their plans accordingly, alternating what they gave for assessments in the past into tests or projects that can be completed in a normal schedule.
Mr. Doubleday, a teacher in the History department, said that his plan for this year will be different from other years. Although his classes are still going to have projects or tests at the end of the trimester, Mr. Doubleday said that they will not be worth as much as a trimester assessment would have been.
"While each of my classes will be having a test or research paper towards the end of T1," he said, "each assessment will be less comprehensive than normal and count as a regular assessment instead of a trimester exam, which would have accounted for 20% of the trimester grade."
Leave a Comment