The Tradition of Painting the Lion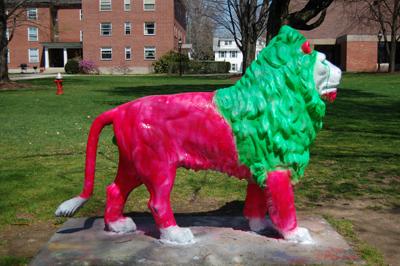 People used to sneak out to paint the lion, but times have changed, and so has the process.
Located in the heart of campus, the lion is an iconic part of Williston. And painting it, for many teams and clubs, has become a tradition.
Before or after games or special events on campus, teams or groups involved will often spray paint the lion with colors or designs relating to their game or event.
Dean of Students, Kathy Noble, said she hopes groups who paint the lion do it out of "celebration."
"We want it to be inclusive, celebrating something," she said. "It's to make positive statements on campus."
So far the lion has only been painted once this year. The Girls Varsity Hockey team usually paints the lion for their annual "Pink in the Rink" game, which raises money for breast cancer.
Last year the lion was painted by the swim team. Ava Larkin '22 was part of the group, and said, "it was really fun and it brought our team closer before a big meet."
The Willistonian spoke with Sarah Markey from the Sustainability club. She said when her group painted the lion back in September she thinks "we just did it without permission," and that they got paint from the hardware store.
Noble said that usually students at least talk to an adult, either a teacher or coach, before painting the lion. The school wants the painting of the lion to be a canvas, so to speak, of "self-expression."