Theater Department To Put on "Curious Incident"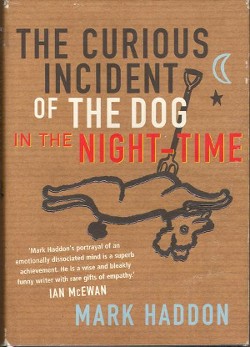 The Williston Theater department has decided to cancel the Spring Musical this year, and replace that show with a play. Director of the Williston Theater, Emily Ditkovski, recently had to make the unfortunate decision of canceling the musical. Due to state guidelines, she said she was left with no choice.
"With Covid cases on the steep incline all over the country, and here in Massachusetts, the state has put out strict guidelines on group singing, which is one of the ways Covid can spread (and has spread) amongst communities," she said.
While singing, it is possible for students to spit, or spread germs among themselves and others in the company. Students are not allowed to sing indoors this year for this reason.
Many students and faculty are disappointed that the planned musical, "Pippin," can not go up this year. While it is a tradition of the school to put up a musical every year, it is sad to see that tradition put on pause.
Ditkovski herself was devastated that "Pippin" will not be able to go up. While she knows the students were very upset by the news, she also has a personal connection to the show. "Pippin" is one of her favorite musicals and had always wanted to direct it.
"Truly, I was heartbroken," she said. "Just as you students dream about performing in a play, I dream about getting to direct it. 'Pippin' is one of my favorite musicals of all time. It holds a lot of meaning for me — it was one of the first musicals I saw and it captured my imagination and made me want to do theatre. I couldn't wait to share this with my students."
The play that will be put up instead of "Pippin" is called "The Curious Incident Of The Dog In The Night-Time." This show was on Broadway and will return to London's West End when live shows are allowed to be performed again.
This play, based on a best-selling novel by Mark Haddon, is about an autistic teenage boy who excels in math. One day he goes to neighbor's backyard and find his dog has been murdered. He then goes on a hunt to figure out who murdered the dog. The protagonist's name is Christopher, however Ditkovski said that might change depending on casting and if the protagonist is changed to a female.
This play is a chance for the company to use a variety of tools to unpack and portray the experiences of the characters.
"The play is an incredible opportunity to use movement and sound, along with words, to understand the experience of this young person," Ditkovski said. "We are planning to cast folks who are right for each role regardless of the race, gender, and ability of character as written in the script. This is one small step we are taking to make our theatre a more inclusive and welcoming space."
The company feels confident that the show will have auditions and rehearsals smoothly since they have already done this for the fall play. While there will still be many challenges due to restrictions, they know that they will all still be able to work together to put up a show.
"Luckily, we already did a show with Covid restrictions and it was really beautiful," Ditkovski said. "I will definitely take a lot from that experience and also learn from it. We will be doing all the same things we normally do: character work, blocking, social justice, but we will be masked and distanced. While the restrictions can be frustrating, they can also, as I found directing "Antigone," open up new creative possibilities."
Ditkovski is constantly reminding herself and other how lucky they are to be doing the work that they are doing, especially just having the chance to be in person with each other.
Ditkovski also realizes how devastating this news was, especially to the seniors who were planning on participating. She knows that for many, "Pippin" was going to be the only musical they would get to preform on campus.
"Honestly, I think many of them are devastated. "Les Miserables" was cancelled last spring and this was their chance to do a musical during their senior year. For many, "Pippin" was going to be their only musical at Williston. I feel that loss with them" she said.
However, she is optimistic that the change, while sad, will bring its own enjoyable experiences for the young actors. This show may also be exciting for the students who want to participate in the arts, but were hesitant about being in a musical.
"I hope that those who decide to audition are ready to embrace this new story and its power, even though they are experiencing a sense of loss. I also know some kids who prefer non-musicals and are relieved, so the feelings really run the gamut," she said.
Seniors are especially distraught over the cancelation of Pippin. Many feel robbed of the experience especially because due to remote learning last spring, students were not able to put on the musical Les Misérables. Amelia Carlan, a senior day student, was very disappointed when she heard the news, and believes that many students might choose not to participate.
"I am really disappointed. I look forward to being in the musical every year and the fact that it has been cancelled two years in a row really sucks," she said. "I think many people participate in the musical whose main activity isn't theater, and I think the fact that we aren't doing a musical will cause those people to choose to do other things, which is sad."
Senior Gabriel Davila Bustamante, another senior day student, is disappointed as well.
"It's quite unfortunate … It's tough to lose your junior and senior show," he said.
Hannah Cannizzo, a senior boarding student, is sad that seniors will not get a senior musical. However, Hannah takes solace in knowing that her senior spring will be more relaxed.
"I'm sad, because that means I won't get a senior show, but also, relieved, because that means I'll have a relatively free senior spring," she said.
Senior day student, Nathan Shatz, was extremely upset by the news. Nathan, like many others, enjoys musical theater over non-musical theater, and is upset that he will not get to perform a show at Williston.
"I'm devastated," he said. "I think that as a general rule, musical theater is more easy for the general public to enjoy, which is why it is such a popular event at Williston each year."