Teachers and Students Adapt to Covid Resurgence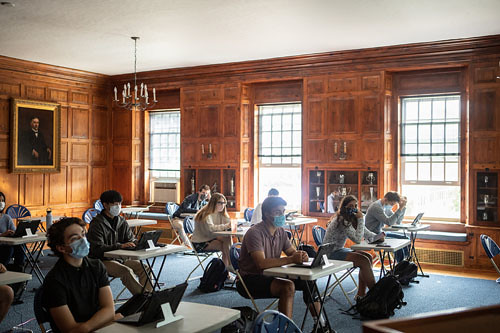 Covid is making another run through campus, but teachers, and students, are stepping up to face the challenge.
With all these positive cases popping up around campus, teachers and students are being forced to isolate themselves for five days and once out of isolation continue masking for five more days. This has made for some challenges as we return to school for the 2022-2023 school year. Covid has put a strain on teachers around campus who are having to either teach over Zoom or find someone to cover their classes.
Since the first Covid outbreak in March of 2020, Williston has been working diligently to ensure classes are as productive and valuable as possible, despite whatever roadblocks there are, from hybrid classes to fully-remote learning. Over the years this has included Zoom classes, masking indoors, moving classes to different buildings around campus, and testing students regularly. In total, since our return to school in early September, 21 student cases and 11 employee cases have been reported as of September 16.
Teddy Schaffer, a math teacher and fall coach, was hit hard this fall; he, his wife, Karleen Schaffer, and two kids all tested positive for Covid. Both Schaffers are teachers in the upper school math department.
"It was a really hard start to the year," Schaffer said. "It threw off the usual rhythms that develop and affected my plans for the first few weeks. We had to adjust timing and teaching and expectations to match the situation."
When he was teaching his classes plus covering Ms. Schaffer's, Schaffer had a seven-class course load, yet he thankfully felt aided by his colleagues, he said.
"The math department is very supportive in general," he said. "Mr. Mailloux (Department Head) is always willing to take a class to help teachers who are out. So many teachers have taught so many different classes that it's good to have experienced people to rely on."
Corie Fogg, Williston's Dean of Faculty, applauded how the faculty is working to navigate the logistical challenges of the ongoing pandemic.
"The beginning of the year is challenging as teachers are trying to set the tone for the year," she said. "To have so many faculty experience sicknesses so early in the year prevents an even new challenge."
Fogg said Willison's Health and Wellness staff has played a large role in our school's success.
"I give a lot of credit to Mrs. [Amber] Mish and her team because I think in addition to supporting students and their health and overall wellbeing, she extends herself to faculty making herself available to answer questions and provide testing," Fogg said.
As a new addition to the faculty last year, Fogg said she is working to support the faculty in any way possible, and "trying to lead with the personhood" of the faculty in mind. Over the course of this year and last year, Fogg has kept this at the forefront of her job as Dean of Faculty. She went as far as to deliver dinners to families who have been affected by the virus.
Additionally, the faculty at Williston has done a tremendous job finding ways to combat this issue. Deans and other faculty members have gone out of their comfort zones and offered to cover classes wherever it has been needed.
Williston's Athletic Director, Mark Conroy, recently taught a physics class.
"I was just happy to fill in," he said. "This is kind of what we do when people are out."
Leave a Comment