Sunday Orientation Kicks off 2019-2020 Year
After a week group activities, meetings, tech sessions, overnight trips, and lugging suitcases and bags up flights of stairs, the 2019-2020 year officially kicked off on Sunday (September 8) with a full school orientation.
Head of School, Robert Hill, opened the 1:00 p.m. assembly with words of welcome to the audience, which was grouped by shirt color – seniors in blue, juniors in green, and sophomores in white. (Ninth graders were at their overnight orientation in Becket, Mass). Hill implored the classes of '20, '21, and '22 to empathize with others by "walking in their shoes."
To comic effect, he then invited sophomore Maleek McNeil to the stage; the two, noticeably different in height, each took off and held up a sneaker. At 6'8", Maleek's shoe, a size 17, looked comically large next to Hill's.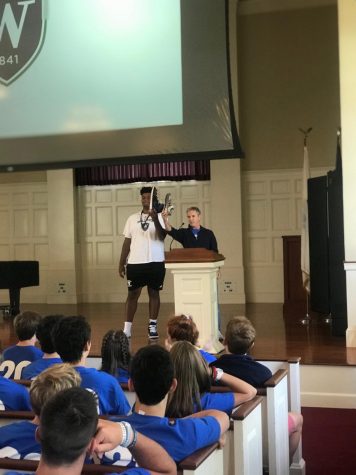 The announcements continued, including the recognition of the first Water Polo All American in Williston history, senior Dylan Fulcher-Melendy, as well as some Willympics preview games with Erin Davey, Director of Inclusion and Community Life.
Seniors Anna Moran and Bree Banas also announced "Senior Sunrise," during which seniors will gather today (Sept. 9) on Sawyer field as a class to watch the sun rise at 6:15. The senior class, Anna and Bree explained, will have a corresponding "Senior Sunset" at the end of the year, at a more reasonable hour, they assured.
Each grade then exited the chapel and proceeded to a different set of planned events around campus: bonding exercises in the theater, kickball, and various ice breaking games, including a video-making competition for the juniors. The winning video will be shown at an upcoming assembly.
Senior Anni Richard told The Willistonian she found the seniors' session with college counseling particularly helpful, especially the informal "open time to talk about our college experiences."
Capping off the day, buses full of ninth graders pulled into the main campus loop, welcomed loudly by the classes of '20, '21, and '22 gathered on the lawn. As freshmen disembarked and everyone headed to the steps of Reed for ice cream, Katherine Garrity, Director of Student Life Curriculum and Assistant Dean of Students, reflected on the success of the day, which she helped coordinate.
"It was great," Garrity said, "and the junior class videos were a phenomenal way to cap off the experience."