Student Council Reflects on Its Changing Role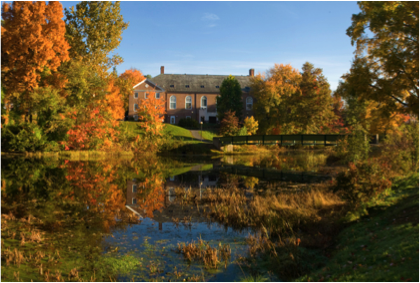 As Williston has transitioned to online learning, certain systems, clubs, and even certain classes have ceased to run. However, the school's student government is still working hard to ensure that students, especially seniors, can make the best out of the end of the school.
Like many systems, the council functions differently under the school's new circumstances. Student Government now communicates through internet platforms and its members have shifted their focus from solving on-campus issues to figuring out better ways to support students during this difficult time.
Before Coronavirus shut down schools for the remainder of the term, Williston's student government met every other Friday morning to discuss topics like Spirit Week, Saturday class, and more. However, now that students are no longer on campus, the council as a whole meets less frequently and uses Zoom when they do.
Student body President Nat Markey '20, from Northampton, Massachusetts, felt the impact that switching to distance learning had on students' ability to communicate with their class representatives.
"On campus, if someone has an issue, it will likely come up naturally during or between classes, meals, afternoon program, or any other of the endless daily activities we have. When everyone's at home, student council doesn't hear about those issues without a more active effort."
Nat encouraged students to reach out to their class representatives, as the only way to hear the students' voices is through direct communication now that on-campus learning has come to a halt.
Sophomore Representative Benning Johnson from Quechee, Vermont, explained how student council is shifting its focus from addressing more tangible issues to fostering community engagement during the pandemic.
"Our main focus as of now, is to help our community understand these new experiences as they are undoubtedly difficult for everyone," Benning told The Willistonian. "As leaders of the community we want to make sure that every one feels secure and comfortable in these strange moments of quarantine," he added.
These leaders come from all grades in the high school and are appointed through class elections. Grade 9 is represented by five class representatives, while all other grades elect one president, as well as four other representatives. For the 2019-2020 school year, the class representatives are:
9th grade: William Chalfant, Adam Shatz, Elsa Frankel, Andrew Yu-Hwang, and Emily Crovo
10th grade: Benning Johnson (class president), Sarah Markey, Natalie Stott, Anita Hua, and Ella Mattocks
11th grade: Brodie Fazio (Class President), Gabriel Davila-Bustamante, Ruby McElhone Yates, Alejandro Ruiz Boughton, and Tomi Akisanya
12 grade: Nat Markey (president), Eric Albanese, Jason Albanese, Rachel Goodman, Sarah Kimmel, and Cam Lawrence  
Class representatives have been using tools like Instagram, email, and surveys to stay in touch with students and gauge the feelings of their classmates. For the senior class, who will never again be united on campus while enrolled at Williston, social media has become a tool to keep up to date on peers' post-graduate plans. Senior class representatives created the Instagram account @willy2020grads to keep the historic class connected, Nat told The Willistonian.
Being a student leader for the Class of 2020 has its challenges, but ultimately, representatives are grateful to have ways to connect with and represent the seniors.
Nat described that, in an effort to salvage some of Williston's end-of-year excitement, the council is planning some virtual events and surprises to unite the school and celebrate the senior class, and explained that the seniors on student council are working harder than ever.
"I don't think the abrupt end of our time on campus made any of us less engaged; if anything we have met more as a class council than we did during the first two trimesters. I think I speak for the senior reps as well as myself when I say that finding out we wouldn't go back only made us more focused on how we could help 2020 go out as fittingly as possible," he said.
Senior Sarah Kimmel from Bethesda, Maryland feels responsible for making the best out of the end of the school year for the Class of 2020.
"There is definitely some pressure, given the loss of so many 'senior spring' activities, to be able to provide a decent goodbye for the seniors. Personally, it is hard knowing that no matter what we do, we will never be able to make every senior what they want," she said.
Despite the challenges of remote learning and the grief that students feel for their lost time, it is essential that students stay united and not let this pandemic define their experiences at Williston as a whole, President Nat urged.
"If I could say one message to the class of 2020, it would just be that our class endures, whether or not we can have a commencement in August. We have memories and bonds that can't be cancelled due to a pandemic. That sounds very corny, but it's important," he said.
Leave a Comment