State Senate Candidate Chelsea Kline Sits Down with The Willistonian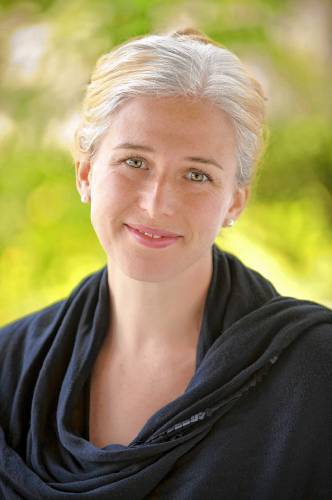 Hang on for a minute...we're trying to find some more stories you might like.
Bill Clinton chose "The Man from Hope." Barack Obama chose "Change." I'm not sure if Chelsea Kline, who just announced her candidacy for Massachusetts State Senate has one yet, so I'm choosing "A woman on a mission." Because that's what she is.
Kline is running for a seat that contains the Franklin, Hampshire, and Worcester districts, and includes Easthampton, Northampton, Amherst, and Deerfield. The position has been held by Stan Rosenberg since 1991, but Kline thinks when the election on November 6 rolls around, she can take it. On April 27, Kline tweeted that she was the first candidate to secure a place on the ballot for the September primary.
"From my perspective, having been a single teen mother and from working with low income and first-generation college students, I see that Beacon Hill can do more for Western Massachusetts," she said. "I've lived here since 2001, and I'm raising my children here. These are the people that I love and respect, and that I want to serve."
As a child, Kline described herself as "constantly moving around."
The Willistonian sat down with Kline at The Roost. Kline was engaging, friendly, and warm when remembering her childhood and how it impacted her professional life.
"I was always the new kid, every year, but it helped me to be a little more outgoing," she said. "I got to meet all kinds of people…small town people, rural people, big city people, you name it, I've met them."
She eventually settled down in Washington D.C. as a teen mother working multiple jobs. After her stepfather left her mother, who was diagnosed with cancer, they decided to move to Northampton.
"I had memories of Northampton from when I was a really little kid, and thought it was the coolest town in the world."
She added, "I remember coming here when I was four years old and I thought it was heaven on earth because I saw women riding horses all over the Smith [College] campus and I was like 'Who are these goddesses?'"
After completing classes at Greenfield Community College while raising her child, Kline became an Aida Comstock Scholar at Smith College. The scholarship, according to Smith, "enables women of nontraditional college age to complete a Bachelor of Arts degree either part time or full time, with flexible options for reduced course loads, special academic advising, career counseling, and housing."
Kline credits the program for changing her life.
"It showed me that people actually believed in me, and I got this fantastic education at Smith," she said.
After completing the program at Smith, Kline went on to do graduate work at Harvard. Kline is currently the director of the Women as Empowered Learners and Leaders program, also known as WELL, one of the many responsibilities that she carries in the local community.
"I would say that WELL is one of the proudest pieces of my career, it's very important to me," she said.
The program is required for all undergraduate students at Bay Path University.
"The program was pretty new [when I became Director], and students had been kind of unhappy about some part of it," she said. "I changed the whole thing and made it a lot more fun and upbeat. I took my experience from being a nontraditional student and thought about how other students could benefit from my experience."
She said that in the program students do a lot of self-reflection to think about what they want to get out of their college experience.
"It's kind of a gift of time to be able to think of those things. Who you want to be, who you are, that type of thing. I think it opens them up to lots of possibilities."
Kline is also on the board of directors for the Women's Fund of Western Massachusetts. She was asked the be on the board after her positive experience with a program run by the group called the Leadership Institute for Political and Public Impact.
"I completed the training in 2013 and that really sort of opened the possibility in my life of running for office."
The trainees of the Institute have gone on to have impressive accomplishments. Alumnae of the program include the mayor of Pittsfield, Linda Tyer, the Northampton Chief of Police, Jody Kasper, and Kristen Elchko, the Executive Director for the Cancer Connection.
Kline also works on the Hampshire-Franklin County Commission on the Status of Women and Girls, and the Young Women's Initiative, a pilot program based in Springfield.
"We focus on young Springfield women and help them name their vision for the city, and also work on how to keep them in Springfield to be able to make those changes."
All of her responsibilities, and her newly announced campaign, keep Kline incredibly busy.
"I need to be everywhere, and that is fun to me, because I love driving all around the district and getting to know people and their hopes for our district," she said. "I have to keep an ear to the ground and find events to go to so that I can spread my message and spread the hope that I feel for this community."
Kline decided to run for office because she "saw an opening." That opening, it turns out, is mired in controversy that made the national stage.
Senator Rosenberg, 68, became the Senate president in January 2015, but had to step down after two years in office after his husband, Bryon Hefner, was accused of sexual harassment, sexual assault, and of wielding Rosenberg's power too heavily. There is currently an ethics investigation underway.
Kline kept it positive when Rosenberg came up, however.
"I think that Senator Rosenberg has done incredible things for Western Massachusetts," she said. "He's had a very long and very proud tenure of really advocating strongly."
"I think he's a lovely guy and has done really strong work, and I think it's time for even stronger work," she laughed. "All I can think of is a word in Yiddish, 'Mishegas,' which means craziness, or big mess. It's time for some fresh energy."
The Massachusetts State Senate has been ridden with scandals recently. In 2017, Senator Joyce, who represented the Norfolk, Bristol, and Plymouth districts, was indicted on charges that he turned his office into a criminal enterprise. Senator Michael Brady, who also represents the Plymouth and Bristol districts, recently announced his enrollment in alcohol treatment after an arrest on drunken driving charges in 2017.
"There are some temper tantrums going on, and messes, and some bad behavior, but it doesn't phase me," Kline said. "It's time for more women to get involved and kind of calm things down—bring some more maturity. It's unfortunate that we have all of these messes going on, which is why it's essential to have some new blood."
Kline also acknowledged that out of the 40 State Senate seats in Massachusetts, only 10 of them are held by women, and with two retiring, the state could face one of its worst gender gaps in recent history.
"I feel that we can strengthen our safety net for vulnerable people in Western Massachusetts. I feel that we can strengthen transportation options which would benefit the whole district. And I have many more ideas. I see a lot of opportunities for improvement and specific things that can be done to benefit all of us to keep the district really strong and vibrant."
Kline thinks her candidacy is important because of her perspective.
"My voice and my perspective matter. I love here, I'm raising my children here. Because I work in higher education, because I'm a product of Smith College and Harvard University," she said, "I can speak from being rooted here and involved as an activist, being involved with a nonprofit, being involved in my community, involved as a parent. So, when I will be advocating for this area, that perspective, knowledge, background, really matter."