Seniors Reflect on their Remaining Months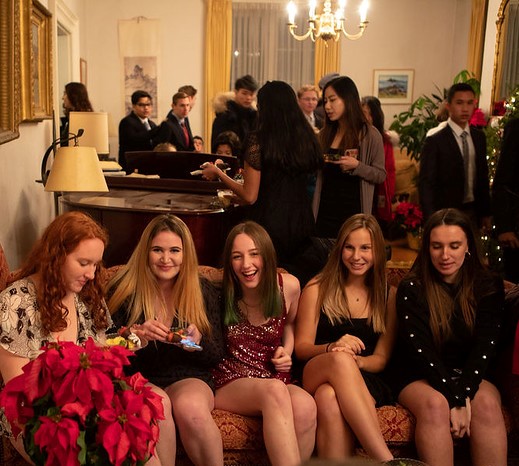 There's only 22 weeks left of the academic year for the class of 2020 to fulfill before walking across the stage and grabbing their diplomas. That could seem like a long time, but it will go by fast.
A majority of the senior class this year has attended Williston since their freshman or sophomore year, and soon, will be ready to begin their next chapters in life. With little time left, what will they do to leave behind their legacy?
Martin Laham, known as Junior, a one-year postgraduate from Westwood, Mass., wants to focus on school.
"I want to make high honors and get accepted into college," he said. As a joke, Junior added, "I want to find a girlfriend."
Marissa Dalton is a two-year senior from West Palm Beach, Fla. To fulfill her time left, Marissa is planning on maintaining her grades while simultaneously spending time with her friends.
"I'm still working hard because I know Liebz [Mr. Liebowitz] is going to read this because he's my English teacher," Marissa jokingly said. "I still need to get good grades and I don't need my senioritis to overwhelm my work ethic. I want to be able to really enjoy these last few months of high school because we're never going to get it back."
Wol Maiwen, a one-year postgraduate from Auburn, Maine, wants to pursue basketball and relax for the rest of the year.
"I want to commit somewhere for basketball by the end of the year, and I want to sleep," he said.
Caroline Forman, a three-year senior from Needham, Mass., main focus for the rest of the year is to appreciate the time left with her friends.
"I want to make the most memories as I can with all my friends being so close because I know in college we'll be far away, and it'll be sad that we won't all be living in the same place again," said Caroline.
"I feel like I won't have a senior spring because I want to make sure that I don't slack off, and I want to make sure I end on a good note with everyone." She said she's especially excited for the senior class five-year-reunion that Williston hosts, which will be in 2025.
Gavin Kline, three-year senior from Chatham, N.Y., wants to have a positive, yet thrilling, rest of the year.
"I want to leave as much of a positive impact on campus as I can before I leave. I also want to do a back flip off the balcony in the gym into the pool after graduation … but don't quote me on that," he joked.
Casey Feins, a four-year senior from Naples, Fla. is planning on completing her year by seizing opportunities and making the most of them.
"I want to have no regrets and do everything, even things that I think are weird, and just 'send it,'" she said. "Over my four years here I was always scared as an underclassman, and now that I'm a senior, I don't care what anyone thinks of me."
Leave a Comment