Seniors Gather for Annual Class Dinner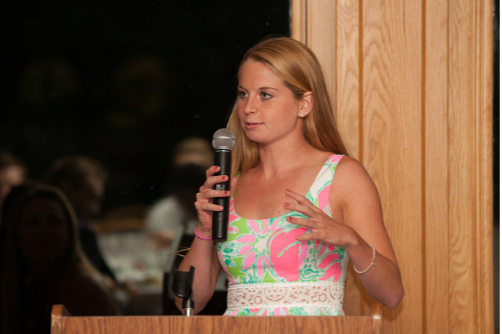 After Williston's 176th convocation ceremony on Friday September 16th, the senior class made their way down the hill to the Birch Dining Commons for a formal dinner. While the ceremony lasted longer than expected, spirits were high after Amherst Professor Austin Sarat's keynote speech and everyone went to their assigned seats quickly.
Once settled, the meal was kicked off by a brief address from Mr. Koritkoski and the class president Natalie Aquadro.
"So my challenge to myself, and to all of you," Aquadro said, "is to not wait until it's too late to realize what we have here at Williston and to be grateful for the people that we have looking out for us."
Conversation appeared to flow easily at each table as everyone enjoyed their salads and lemonade. The main course for the evening was a chicken dish that included purple potatoes and beans. Food was brought out quickly and the wait staff was very friendly.
Pete Martinkus, a PG, said "I enjoyed having a break from the regular dining hall food."
The atmosphere at dinner was calm and enjoyable, but many of the students were eager to get to the dance which was to be held at the gym. The whole grade walked down together at around 8 P.M. and immediately began dancing. Many went straight for the photo booth.
It was a memorable night with a variety of activities everyone could enjoy. All three of Friday's events were a perfect way to begin the school year.