Renowned Photographer Brings Snapshot of Artist's Life to Campus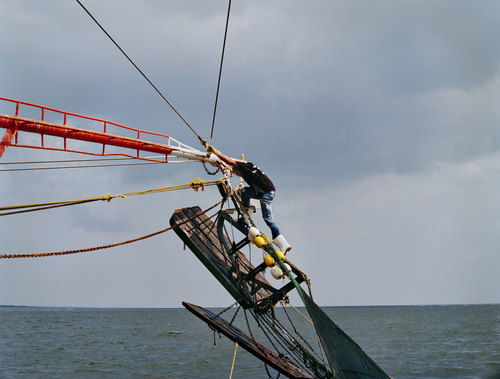 Williston Arts students, photographers in particular, are gearing up for the first entry in this Spring's Photographer Lecture Series, when Holly Lynton brought her talents to campus.
On April 11th at 6:30 p.m., Lynton presented her work in the Dodge Room of The Reed Campus Center. The presentation was free and open to anyone who can come.
Lynton's work is centered around vanishing industries and people's passion for maintaining and preserving natural resources. She currently lives in the Pioneer Valley of Massachusetts, and her work has been exhibited in many places, including Paros, Greece.
On her website, Lynton describes her photography as an exploration of people's passion for nature.
"The individuals I photograph always work directly with their hands and often with nearly obsolete tools or technology," said Lynton. "These individuals demonstrate a powerful yet intimate connection as they work in tandem with their environment."
Lynton explains that her project has expanded beyond New England to other rural areas of the U.S.
"Fascinated by the effects of historical events on the development of agriculture and the landscape in these distinct regions, I explore how that history helped to determine current local industry and pastimes," said Lynton. "Currently, I am continuing this investigation by creating new photographs in many additional regions of the United States, each with unique agricultural histories yet linked by shared challenges."
Edward Hing teaches Visual and Performing Arts, including photography, and believes the Photographer Lecture Series is a great way to branch out of comfort zones.
"I like Lynton's work because I think it is very approachable and anyone can look at it and be interested. Her work leaves a lot open for interpretation," said Hing. "Her lecture is a great opportunity to broaden people's horizons and move away from what they are comfortable with. Seeing a professional photographer shows them an interesting and viable career path."
Vince Wang, '20, a former photo student, believes more people should go to these Photographer Lecture Series Events because it exposes them to something with which they may be unfamiliar.
"These series are great learning experiences, it is amazing to see all different types of work," said Vince. "Every lecture is a chance to explore different styles and different ideas, it really opens your eyes."