Recent Amherst Grad Mr. Cunningham Joins English Faculty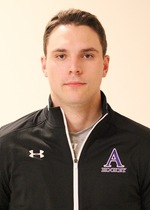 Dave Cunningham is joining the Williston community this year in the English Department. Cunningham, 24 years old, is a 2016 Amherst College graduate from Arlington, MA. He went to Belmont Hill and played college hockey and baseball. Mr. Cunningham, is teaching 7th grade English and will be an assistant coach for the Boys Varsity Hockey and Baseball teams.
Mr. Cunningham was an assistant coach for Amherst's hockey and baseball team last year, but this will be his first year teaching. Cunningham has wanted to become a teacher since high school.
"My interest in teaching was promoted by my experiences at Belmont Hill," said Cunningham. "My teachers and coaches truly defined my time at BH, and I always had a hunch I wanted to do the same. Coaching at Amherst last year also proved I have the leadership capabilities necessary for running a classroom."
Cunningham believes that coaching and teaching coincide and that they will help him succeed in both.
"In the classroom, I'm looking forward to developing valuable bonds with the students," he continued, "I hope to be a solid support system, as the teachers were for me during my time at BH. Athletically, I'm looking forward to helping kids find spots on college rosters."
Cunningham added, "Thus far, the two most notable similarities have been organizational skills and clarity," he added, "Whether you're running a practice or class discussion, it is imperative for the teacher and coach to control the environment, and make sure everyone understands the goals. I'm excited to take what I've learned from coaching, and implement it into my classroom."
Sam Milnes, senior captain of the Boys' Varsity Hockey team, believes Cunningham is a great fit for Williston and for the hockey program as well. Cunningham has already had an immediate impact with the team by being an assistant for Blayne Lapan for Athletic Performance, which most of the varsity hockey players are participating in this fall.
"Coach Cunningham has been great with the team and AP group this year," Sam said. "He has an outstanding attitude and really pushes us to do better not only in the weight room but in academics as well. He is also friendly around campus, and is a fun person to talk to."
"I am excited about having him as a coach because he brings a new perspective into our team," Sam added. "For him to coach at Amherst College for a year helps our team put into perspective how hard and how much work you must put in to play at that level. He also helps us with the recruiting process, and tells us what college coaches want to see and hear."
Cunningham also has a special interest in sports journalism. He worked for New England Sports Network (NESN) while at Amherst.
"I write a lot when I have free time, and I can definitely see myself reentering the sports media world at some point in the future," he said.
Cunningham currently lives in Logan House with his two 13-week-old Siberian Huskies, named Dola and Koji (after Danny Amendola and Koji Uehara, current Patriots wide receiver and former Red Sox pitcher, respectively).
Cunningham already feels part of the community and is excited for what this year has ahead.
"I've very much enjoyed my first week here at Williston," he said. "The students seem to be very engaged, and the faculty has been immensely helpful each day."