Punk Fashion Icon Vivienne Westwood's Death and Legacy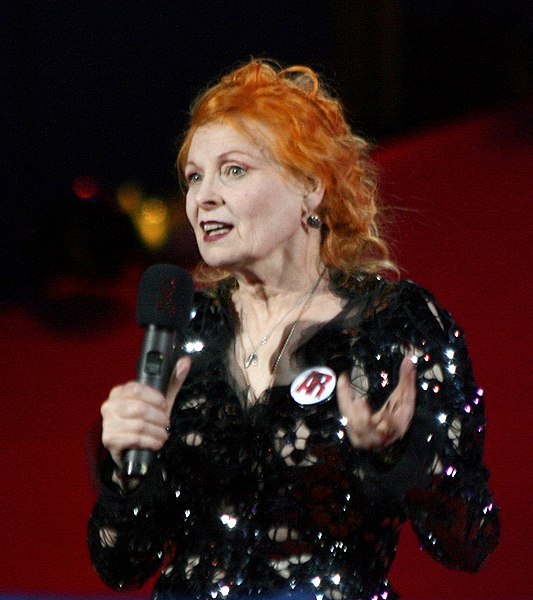 Vivienne Westwood, British fashion designer and punk icon, died at the age of 81 on Dec. 29 surrounded by family in Clapham, South London.
Her company, Vivienne Westwood, stated on Instagram, "Vivienne continued to do the things she loved, up until the last moment, designing, working on her art, writing her book, and changing the world for the better. She led an amazing life."
The cause of her death was not specified.
Ms. Westwood's signature style was original and revolutionary, bringing punk to high fashion and promoting social justice through her designs. One of her most iconic collections is Vivienne Westwood Fall/Winter 1994-95 – "On Liberty," which employed both historicism and eroticism and featured leather outerwear, long furry coats, classic hats, plaid blazers with matching skirts, and more.
Ms. Westwood was born in 1941 in Tintwistle, Cheshire. She had humble beginnings, creating her own jewelry as a primary school teacher and selling them on the street. Ms. Westwood married Derek Westwood in 1962, but her marriage ended when she met Malcolm McLaren, manager of the groundbreaking punk band Sex Pistols. Ms. Westwood and McLaren, who married in 1971, promoted their designs through the band, creating a demand for punk fashion and inspiring the style of punk icons. She later married her former fashion student Andreas Kronthaler, 25 years her junior, in 1992.
Ms. Westwood has won various accolades for her designs, including British Designer of the Year on three different occasions. She was appointed an Officer of the Order of the British Empire (OBE) by Queen Elizabeth II in 1992 for her contributions to the fashion industry.
At the OBE ceremony, Ms. Westwood famously twirled for the paparazzi, revealing her absence of underwear. The queen, according to Westwood, was amused by her daring move.
Vivienne Westwood as a brand reached the height of its popularity as a fashion house in the 1980s; since then, Marion Cotillard, Princess Eugenie, and Pharrell Williams have worn Ms. Westwood's designs. With the resurgence of Y2K (early 2000's) fashion in recent years, her designs have made a comeback.
Fashion icons from this era embraced the look of low-rise jeans, velvet track pants, micro mini skirts, baby tees, and platform shoes. The most notable proponents of early 2000s fashion included Paris Hilton, Avril Lavigne, and looks from the award-winning film Mean Girls.
In particular, the Vivienne Westwood Bas Relief Choker was popularized through TikTok, and has since achieved a cult following. The necklace has been seen on the necks of Rihanna, Dua Lipa, and Bella Hadid, to name a few.
Debuting on the runway in the 1980s and subsequently being updated in 1990 and 2022, the Bas Relief Choker has stood the test of time. The sought-after pearl necklace, retailing at $610, has become a staple piece among young people.
Gavin Kim, a sophomore from Seoul, South Korea, fell in love with Vivienne Westwood because of this necklace.
"I first saw the popular Vivienne Westwood necklace on TikTok and purchased it," she said. "After my first purchase, I actually got more interested in the brand and its unique style."
Aiyana Karanja, a freshman from New York City, is also enthralled by Vivienne Westwood jewelry.
"[Vivienne Westwood's] designs are otherworldly, each piece crafted with great care and then embellished with her signature orb," she said. "My personal favorite is the Three Row Pearl Bas Relief Choker. It's incredible."
Aiyana thinks highly of Ms. Westwood's bold design choices.
"When Vivienne Westwood was beginning her brand, she created punk inspired clothing with little to no regard for the European fashion standards at the time," she said. "It's amazing how she conveyed her opinions through her designs and never shied away from controversy."
Senior Hannah Roche, from Chesterfield, Mass., not only admires Vivienne Westwood's intricate designs, but also Ms. Westwood as a person.
"Vivienne Westwood was free-spirited and always pursued what she believed in without letting judgement impede her — this was evident both in her activism and in her designs," she said. "I think it's inspirational how she tirelessly sought to honor what she believed in."
Junior May Nguyen from Ho Chi Minh City, Vietnam, is a fan of Ms. Westwood's work.
"I like Vivienne Westwood for its odd, punk feminist styles," she said. "VW clothes are very expressive, loud and rebellious in a very unique way, which I think is a breakthrough in the fashion world."
May's brother, senior Wade Nguyen, a self-proclaimed fashionista, spends his free time poring over Vivienne Westwood's bridal collections.
"The Vivienne Westwood 2022 Bridal Collection is unlike anything I've ever seen before," he said. "This collection contradicts her typical punk designs, colors, and personality. She emphasized silhouettes and subversive cuts that go against the formality of a wedding to make the dresses stand out, creating the perfect embodiment of freedom from societal expectations."
Vivienne Westwood has over 60 retail stores worldwide, including ten in the U.K., 30 in South Korea, 13 in China, and five in Hong Kong.
Surprisingly, there are only two retail stores in the United States, in New York City and Los Angeles.
Currently, all Vivienne Westwood stores, including the online store, are closed as a mark of respect for the passing of Westwood. All stores will reopen January 10.
Ms. Westwood's lasting influence on the fashion world is far-reaching and her designs have touched the hearts of many. Numerous notable fashion designers, including her husband, have paid tribute to her.
Kronthaler, Ms. Westwood's husband and creative partner, reminisced about the time he spent with her.
"I will continue with Vivienne in my heart," he said. "We have been working until the end and she has given me plenty of things to get on with. Thank you darling."
Donatella Versace, Italian fashion designer and Versace's Chief Creative Officer, expressed her admiration for Ms. Westwood's esteemed role in an industry dominated by men.
"Vivienne continually inspired me as one of the few leading women in our industry. She was never afraid, she never took no for an answer, her vision was pure and unfiltered," she said. "Vivienne taught us all so much. She always will. Rest in power."
Marc Jacobs, American fashion designer and head designer of his own label, is gratified to have met Ms. Westwood and for her role as a mentor.
"I continue to learn from your words, and, all of your extraordinary creations. I will always remember the night we bonded over our mutual love for Yves Saint Laurent," he said. "You never failed to surprise and to shock. I am grateful for the moments I got to share with you and Andreas."
With so many recognizing Ms. Westwood's prominent role in the fashion world, her legacy as the "mother of punk" is set in stone.
In addition to creating distinctive fashion pieces, Ms. Westwood used her collections and catwalk shows as a platform to advocate for political parties and climate change, being the first of her time to do so. She also strengthened the feminist movement through creative expression.
According to Ms. Westwood, "I just use fashion as an excuse to talk about politics. Because I'm a fashion designer, it gives me a voice, which is really good."
At the Fall 2015 Red Label AW15 show, Ms. Westwood endorsed the Green Party by titling her collection Vote Green. She made powerful statements and toured universities in an effort to secure the student vote.
"At the moment we are controlled by the 1% of the world population who are in power," said Ms. Westwood. "They preach consumption, and they preach war, and they're taking us into disaster."
Vivienne Westwood designs sustainable collections and endorses the statement "buy less, choose well, and make it last."
"The collections use materials that are sustainable, such as recycled polyester or organic cotton. All their retail packaging is also plastic free," Gavin pointed out.
Elise Ollmann-Kahle, a sophomore from South Hadley, Mass., commends how Ms. Westwood drew attention to pressing climate issues in the fashion industry.
"I believe the attention brought to the effects of fashion production and climate change from her role in the fashion industry influenced more brands and companies to make a change for the better, and opened consumer's eyes to the true damages of the fashion industry," she said.
Elise and Gavin are the Co-Presidents of the Fashion Club.
With Ms. Westwood's passing, some may wonder how the brand will continue and whether they will be able to retain the signature Westwood flair. May thinks the brand will undergo major change after Ms. Westwood's death.
"I think her team will do well, but they may suffer from a huge loss of creativity for the brand," she said.
However, Elise is positive Ms. Westwood's legacy will carry on.
"Due to the switch in owners of her company, I think some pieces will have a slightly different style or appeal, but I believe her original ideas will remain throughout future designs due to the many people who worked with her," she said.
Leave a Comment