Prospective Students Check Out Campus on Revisit Day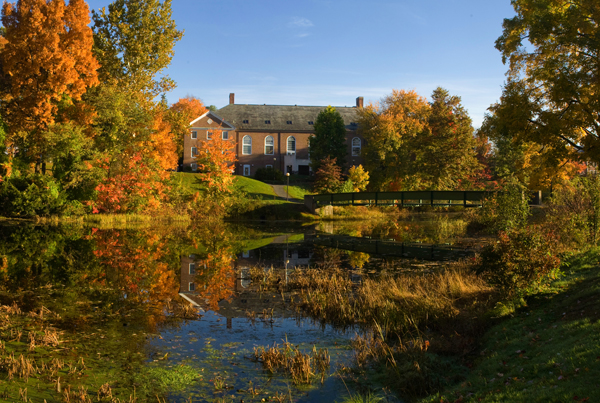 During the months of March and April, prospective admitted students return to Williston to get a taste of our daily lives and what the school has to offer, in order to help them make a smooth transition through the admission process.
Admitted Student Days run every weekend for three consecutive weeks. Accepted students get to stay overnight in the dorms and join students in classes during the day. There is a special assembly and an Activities Fair to demonstrate the wide variety of extracurricular opportunities available at Williston. Williston has been offering Admitted Student Days for more than 20 years.
Ms. Dietz, Visit Coordinator and Admission Assistant, said in an effort to make sure Admitted Students Days go off without a hitch, the preparation is very time consuming.  "There is so much planning and organizing that goes into our efforts to make these days an informative and enjoyable experience for the visiting families," Dietz said.
She explained how everyone on campus contributes to the process of making the days effective and enjoyable. "We evaluate how things went for the days we just hosted," she said. "We determine what, if anything, needs to be changed for future events. In the weeks leading up to admitted student days, meetings are held with Sage, Physical Plant, Security, Campus Store, Stu Bop, faculty, students, Admission Office Staff, Technology Department, and Mr. Hill."
Revisit Days are March 22, March 30, and April 5.
Ms. Dietz told the Willistonian, "As every one of the students attending is a potential new student for the upcoming year, our goal is to hopefully enroll as many of them as possible. It is an arduous task to fill the school each year." However, she added, "Our admission team does a wonderful job of accomplishing this mission. We need to be able to standout and shine above other schools. Many of the students who revisit Williston will also be visiting other schools over the next few weeks. We want them to choose Williston!"
Sarah Drucker, an admitted sophomore from Great Barrington, Mass., said she had a great time at Williston and really got to understand the boarding aspects of the school.
"I was very nervous before coming here because I thought it was going to be super fancy," Sarah told The Willistonian during the first revisit day, on Friday, March 22. "It is a lot more relaxed than I thought and I definitely feel welcomed.  Everyone has come up to me and said hi."
She continued, "I feel very included by everyone because it really helps that you go along with people.  Doing boarding school things makes me feel like a part of the community.  I really love the community and the boarding aspect.  Three of the faculty members already checked in on me and made sure I was doing okay."
Not only are the admitted students excited to spend a night at school, the hosts also have a good time.
Brandon Barrett '21, from Florida, told the Willistonian that he really enjoyed having a guest around.  "Personally I really like hosting," he said. "Being able to get to know and hopefully attract a new student is fun for me, and it pays off when you can hopefully see them come to school in the fall."
Brandon continued, "A lot of my friends already know when I'm hosting a student, so they come in and we have regular conversations and include our guest so he can see what the kids here are like in a less formal setting."
He also included ways how he makes sure admitted students feel included, "I just make sure to keep asking them questions or talking about how campus life is, and I'll invite them to play me in NHL to keep it fun."
Brandon takes it upon himself, he said, to ensure the prospective students get a real feel for what Williston campus life is like. "If they see us just sitting around and not talking, it would give their experience a bad feeling," he said. Brandon took his first student visitor to the [Easthampton] Diner, "We all had some good food and talked about fun stuff."
Students that did not get to sleepover at Williston got to shadow people in classes during the day.  A lot of them really enjoyed the experience and got to know the school better.
Biff Tran, 14, from Vietnam, a student at White Plains Public High School said, "Williston is really great, I love it a lot.  [Today] is really useful because I got to see how much responsibility and freedom people have here. People here are really nice," she said.
Dima Aboukasm, 16, from Northampton, a student at The MacDuffie School, in Granby, Mass., agrees with the sentiment expressed by her fellow admitted students. "It's been amazing, everyone is very welcoming and very sweet," she said. "Everyone has been greeting me, and it's really nice here."
She continued, "[Today] has been helpful because I got to experience what it is actually like to be in a class, and getting to see the community and not just hearing about it."  She's interested in theater, journalism, Janus, and swimming.
Another prospective Wildcat, Aiden Longley, 14, from Westfield, said, "I like the flexibility Williston has to offer for choosing classes."