Out-of-Season Sports Address Last Year's Missed Athletic Opportunities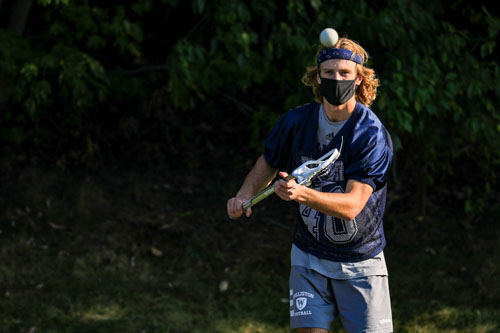 Due to an abrupt end to last year's spring sports, "out-of-season" sports have emerged as an option to get athletes playing this fall and make up for lost time.
While some have expressed concern in relation to the spread of Covid, the out-of-season sports programming has been met with a largely positive reaction from the community. With spring sports reaching an abrupt end last year, and athletes no longer being able to practice with clubs, these programs have come in as a welcome substitute, athletes say.
Out of season sports meet every Tuesday and Thursday at their respective locations: basketball and squash in the gym, lacrosse at Sawyer field, hockey at the Lossone Rink, and swimming at Babcock Pool.
Out of season training differs between each sport. Many sports meet more than two times a week. Sports including hockey and basketball meet all week. These athletes have made the choice to not participate in a fall sport but instead train further into their sport. Training for Basketball and Hockey includes weight training  Monday, Wednesday, and Friday along with hockey and basketball training.
Coach Sawyer, varsity baseball coach, has been found Out of season sports to be a lot of fun.
"It's been a ton of fun," Coach Sawyer said. "We spend most practices doing some drills to build skills before doing something competitive at the end."
Coach Sawyer is also relieved to have baseball back, given last season's unfortunate events.
"The weather has been beautiful," he said. "It has been nice to get some work in especially since we missed our whole season last spring."
Jackson Frechette, a junior squash player, is pleased with training but feels a little uneasy being the only one is his sport.
"It's been going well but I'm the only person who does it so it doesn't really feel like it's actually training," he said. "It just feels like doing solo practice like I do any other time of the year"
Andre Washington, a senior basketball player, feels like he is improving during these out of season practices.
"We get to practice a lot more and we're playing more than usual," he said. "[We] just started doing some drills and some in-game stuff, and is most definitely improving my game, and Coach Farmer sees the little thing that the team needs to work on."
Henry Eustis, a lacrosse post-grad, believes that out of season sports have been a great opportunity to get better.
"It has provided us a great opportunity to get better considering the circumstances of the pandemic, he said. "It's great that we're able to build team chemistry this early in the season."