Nikhil Sierros' Carnegie Hall Debut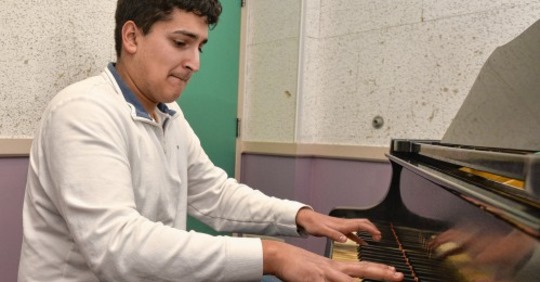 On Feb. 1, Nikhil Sierros '21 accomplished what many aspiring musicians strive their entire lives to do: He played the piano on the hallowed stage of Carnegie Hall.
Nikhil, from Florence, Mass., was selected to play along with 50 other people, and played the third movement of Beethoven's "Moonlight Sonata" at the Winners' Recital of the Crescendo International Competition.
His musical journey began when he first watched his older sister, Toula, play. "I was three or four years old, and I used to want to play the piano so much," he said. Being able to play at Carnegie Hall has been one of his biggest accomplishments, more than a decade in the making for the 17-year-old.
Nikhil was amazed and grateful for being chosen. He said, "I was surprised that they thought that my piece was good enough." Nikhil said he spent a year-and-a-half preparing the piece.
He credits his piano teacher, Michelle Smith, for giving him unconditional support. She works at the Northampton Community Music Center. He told The Willistonian. "She has been my teacher since day one, and she's helped me through every single piece."
Nikhil continued, "This piece in particular, she really helped me through every single part of it." Not only did he get support from his teacher, his mom also encouraged it when it seemed impossible. "My mom helped me a lot to perfect this piece by encouraging me when it seemed like I couldn't do it. However, I loved this piece so much, and it allowed me to play the way I did," he said.
Nathan Shatz, a junior from Northampton, Mass., said Nikhil is "one of the hardest working people" he knows and is proud of him.
Nathan said, "Although he barely ever mentioned that he played piano for competitions, I was not surprised that Nikhil had achieved so highly in one of his outside activities."
He credited Nikhil's "incredible work ethic" in getting him such a remarkable honor.
Not only is Nikhil an amazing piano player, he is also a reliable friend. Nathan told The Willistonian, "I can always count on him to bring a positive work ethic and attitude to any activity he participates in." He continued, "I feel very lucky to be a friend of Nikhil, who is destined for great success in whatever he chooses to pursue."
Charlie Blumberg, a junior from Longmeadow, Mass., didn't know that Nikhil played the piano until a few months ago.
He explained, "One day, Nathan [Shatz] asked me if I wanted to come with him to hear Nikhil play in one of the practice rooms. We all sat down, and Nikhil proceeded to go to town on the keys."
"He told me he was practicing to go to Carnegie Hall, and it took a second for my brain to register what he was saying out of surprise," Charlie added.
Charlie said that Nikhil is an "outstanding person and friend, and he's equally outstanding on the piano."
Liam Coughlin, a junior from Amherst, Mass., wanted to get tickets to go see and support Nikhil when he first heard that he was playing at Carnegie Hall. "I know how big Carnegie Hall is and the reputation it has as being one of the most renowned concert halls in the world, so I was shocked but not surprised Nikhil was playing there," he said.
They have been friends since middle school, and Liam recalled going to Nikhil's house and seeing a piano, but not knowing just how talented Nikhil was. "I think he mentioned that he played it from time to time, and I can even recall him briefly playing something one time," he said. "But it never registered to me that this was a serious thing which he practiced and not surprisingly was incredibly good at."
Liam told The Willistonian that Nikhil is extremely invested in whatever he does. "Nikhil has an unmatched sense of focus and dedication to whatever he finds interesting, which I admire greatly."
He mentioned that Nikhil is also an amazing tennis player, but he still remains the most humble and kind person Liam knows. "I can't think of anyone who works as hard as he does and really appreciate he is getting the recognition for his many gifts and his dedication to them," Liam said.
He continued, "Nikhil is always someone you want to be around, as his kindness and genuine love for life is contagious and he truly makes me and everyone around him a better kinder person, something this world really needs."