Nat Markey Named Senior Student Body President
After a close election for the Student Body President of the upcoming senior class, it's official: Nat Markey will be leading the senior class when school starts up in the fall.
Nat, from Northampton, is currently a day-student proctor, a Co-Captain of the Cross Country team, a writing center tutor, math center tutor, Arete tutor, and Co-President of the Spike Ball and Classics Clubs.
"There were a couple things, first of all I felt that genuinely I would do a good job and I thought that there were few things that I really wanted to implement with student council," Nat said of the reasons he ran for office.
"Big part of it just was that, I wanted to make the school better," he added. Nat has been in the Student Council in the upper school for three years now, and served in the Student Council in middle school for a year.
Nat told The Willistonian he knew the amount of responsibilities the new job would entail, and he's excited for the opportunity to serve.
"I also had to examine if I wanted to do it, and if I wanted that responsibility, and so that was kind of a tough decision for me," he said. "But I felt that it would be good for me and, you know, it would be a lot of work, but I am up for it."
Nat is putting the efficiency of the Student Council on the docket for day one.
"First of all, I think that the meetings could be more efficient and I think that the meetings could be more productive," he said. "I felt that I would be able to address some of that and make student council more functional," Nat answered.
To that end, he mentioned possibly changing Student Council meeting times.
"I think there are different ways you can run the meeting to make the discussions more productive or less productive," he explained. "The biggest takeaway that I have had [is] I don't think the meetings are very productive because it's early and people don't really want to be there. And a lot of people don't go because of that. I would love to find a better time but we will see if that is possible because we really have a packed schedule."
Student Council meets once every two weeks, on Friday mornings before school.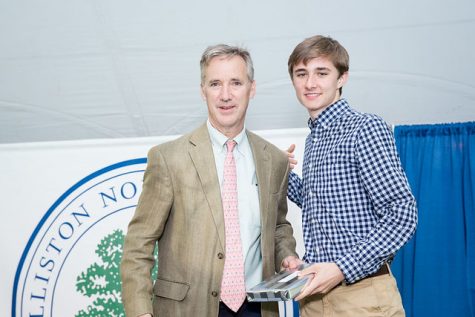 As a leader on campus, Nat works hard and puts in a lot of time and effort to manage all his commitments.
"I am a big believer in putting in a lot of work on things," he said, "with Cross Country and with school, pretty much any pursuit. But I mean, I think that's helped me; I can sort of ideally work hard in school, go to practice and work hard, and work hard in homework and hopefully, if I am enjoying the activities, it's worth it."
He is "a little nervous and excited for senior year" and wants the class of 2020 to be remembered as a grade where the students really contributed to the school to make it a better place.
"I want us to be really involved in the school in all aspects, and passionate about activities we do here," said Nat. "And I think one thing I want to do is, and it's going to be challenging because we have a lot going on, but I really want to try and make clubs and extra curricular activities a bigger thing here at Williston."
Nat's classmates have high praise for him.
"I feel like Nat will do a great job leading our student body and representing our school," said Rachel Goodman '20.
Oscar DeFrancis, a rising senior and a future Co-captain of the Cross Country team alongside Nat, is looking forward to Nat's tenure.
"I think he will work hard," said Oscar. "He has good intentions and I know that he will put our senior class in the best position it could be."
Their teammate Matthew Seltzer also a junior, voiced the same opinions as Oscar, "I think he is going to do a great job, he is really a smart guy, he is really committed, he is well liked, he is very charismatic, so I think he should be great."