Mr. Rivers Goes With the Flow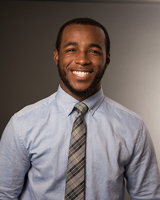 Hang on for a minute...we're trying to find some more stories you might like.
English teacher Jacob Rivers has youth, excitement, and intellectual curiosity on his side.
Rivers arrived at Williston two years ago; owing to a strong athletic and academic background, Rivers teaches English and coaches Varsity Football, 3rds Basketball, and Varsity Track & Field.
His early days on campus saw Rivers received with open arms, and maybe a little skepticism that he  belonged in front of the class, not sitting in a desk among the students.
"It was pretty funny at first because a couple students and faculty members thought I was a post-grad when I first arrived on campus," Rivers said.
Rivers said being in his early twenties — he refused to give his exact age — and growing up in Brooklyn among people "from all walks of life" has helped him mature both emotionally and intellectually beyond his relatively young age.
"Starting in 6th grade I was taking public transportation for at least 4 hours a day," Rivers explained. "It would take me two hours to get to school  [from his home in Brooklyn] and back so I saw so many different things and people that either formally or informally affected who I am today."
Rivers graduated from Poly Prep Country Day School in Brooklyn in the early 2010s as a Varsity Athlete in Track and Football. He was recruited by Trinity College, in Hartford, CT, to play NESCAC football.
Rivers' plan didn't go exactly as he wanted it to though;  the coach who recruited him ended up being fired right before Rivers enrolled. This sudden change ultimately impacted the course his life would take.
"I hated Trinity for a little while," he said, "and I tried to transfer but didn't have the money. Trinity taught me a lot about seeing myself as more than just a football player. The frustrations that I felt in football helped me focus on other things."
Rivers graduated from Trinity in 2015 with a Major in English (with a focus on poetry), and a minor in writing rhetoric and media arts. He is also, he proudly asserts, a self-proclaimed philosophy major.
Rivers' time at Williston has been a whirlwind, with mixed emotions.
"The hardest year was the first year by far," he said. "I had this impression that I had no idea what I was doing for the entire year and I was constantly behind teaching and I had never taught before so it was a very weird transition for me."
Rivers second year went a lot different; one of his close friends, and teammates from Trinity, Matt Porter, became a teacher at Williston.
Rivers has been happy to work along his former teammate.
"Porter being here is kind of one of those things coming out of college you don't really know what to expect from this whole life," Rivers said. "I was on my own in a different setting and with no real social group around. Everyone was super nice to me but there was a certain comfort level that I didn't have because I didn't know people that well. Porter however was a very good friend that I obviously knew so I always feel comfortable around him."
In his stint here, Rivers has also developed very close relationships with former students who have gone on to play college sports, including Michael Dereus '16, a current sophomore wide-receiver at Georgetown.
"In probably  the three years that I have been teaching, [Dereus] has  been the closest to me; he reminded me so much of myself," Rivers said.
"The first time I met him I was walking with Mrs. Schneider who had been his track coach," he said. "We were getting lunch and I remember seeing her talking to Mike who starts whispering about me 'Is that him? The black teacher?' He was so excited to see me just because I was the 'black guy.'"
Dereus now spends Thanksgiving with Rivers and his family in the Washington, D.C. area.
Williston has changed Rivers' life and set him on a trajectory that keeps him learning, thinking, and sharing knowledge.
"I've already gotten a lot out of this job because I am the kind of person that would not have done well working in a cubicle," he said. "I truly enjoy the conversations I get to have with students or different faculty members, and getting to interact with so many people for so many different walks of life.
Nithish Raja '18 is currently in Rivers' senior English class and also lives in the same dorm.
"After living with him for one year I felt like I could relate to Rivers in a very different way compared to most teachers," Nithish said.
"It's almost like he's a student because of how fun and happy he is in the dorm," Nithish said, "but he never forgets to remind me that he is in fact a teacher and he knows when to be serious, which is what I love about him."