Mitski Returns with Top-Selling "Laurel Hell"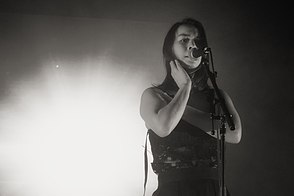 After almost quitting music, indie-rock icon Mitski is back, and currently has the top-selling album in America.
On Feb. 4, 2022, Mitski released her sixth studio album, entitled Laurel Hell. It had been three-and-a-half years since Mitski released her last LP, Be The Cowboy, before she decided to step away from making music.
This album is an explosion of change and transformation for the artist, straying away from her original style in lieu of branching out into synth-pop, indie-pop, and electronic rock. The album encompasses many different genres within it, each song with its own unique style. New-wave, disco and dance music are incorporated into the album, which was originally supposed to be punk. Most of the album was written in 2018 and was finished during Covid lockdown.
The opening song, "Valentine, Texas" has a glam-rock undertone, while single "Working for the Knife" blends dream pop and industrial late-80s style. Other songs include techno background tracks, R&B, and baroque pop.
The lyricism of the album further conveys this transformation not only of Mitski's music, but of her identity.
Mistki, born Mitsuki Francis Laycock, was born in Tokyo. In her relatively short career she has created a space for queer Asian women in indie-rock, a genre traditionally dominated by white men.
Although she has not publicly revealed her sexuality, she is regarded as a queer icon by the LGBTQ+ community. In her music, she often references a love for both men and women, but she is a very private person and has not had any relationships in the public eye.
However, she takes care to write her music for herself first and foremost, avoiding becoming a representative figure for all Asian-American women in the genre.
Isabel Baxter-Paris, a freshman from Longmeadow, Mass., has been a long-time Mitski fan, and loved how the artist branched out of her usual style forthis album.
"I think that the commercial sound was really intentional – she did it to make a point," Isabel said.
Isabel feels people misunderstand Mitski, and box her in as a musician, especially because of her role as a woman in the genre.
"I feel like her personality has really been commodified," Isabel said. "People's perception of her as their token sad girl is erasing a lot of the depth she has as an artist."
That's why this album is so powerful; Mitski is taking back her music, taking back her identity, and taking back her role within the industry. This album is for her, not for the producers or audiences who only see her in one-dimension.
She said that she wrote this album because she "needed love songs about real relationships that are not power struggles to be won or lost" as well as "songs that could help me forgive both others and myself."
Mitski is not a depressed, indie artist like the stereotype suggests. She is a powerful creator, a role-model, and a versatile songwriter who expresses the universal human condition in a beautiful, compelling form.
She described Laurel Hell as "soundtrack for transformation, a map to the place where vulnerability and resilience, sorrow and delight, error and transcendence can all sit within our humanity, can all be seen as worthy of acknowledgment, and ultimately, love."
Leave a Comment