Mason Balch is a Fierce but Friendly Competitor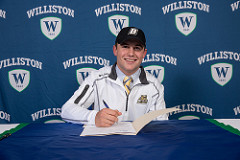 Hang on for a minute...we're trying to find some more stories you might like.
On Friday, November 10, Mason Balch '18 committed to play Lacrosse at Bryant University in Smithfield, Rhode Island. Mason is a two-sport varsity captain, in football and lacrosse, but there is a lot about Mason's contributions to Williston and campus life that go unnoticed.
Well-known and respected by his peers, Mason is a huge part of Williston's community. Even though this is only his second year at Williston, his impact on campus makes him seem like a 6-year Wildcat.
Mason is a transfer student from Westfield High School in Westfield, MA. He made the move to Williston as a junior during the 2016-2017 school year. Williston gave him the opportunity to prosper both academically and athletically, which had not been the case at his public high school, he said. Even though he had verbally committed to Bryant before attending Williston, he believed the jump to prep school would better prepare him for the college lifestyle.
According to Mason, Joey Ford '19 was a huge influence on his decision to come here. "I had known him from playing lacrosse against him my whole life, and he spoke so highly about Williston that it was a hard offer to turn down."
Even though Mason's home is only about 15 minutes from campus, he decided to be a boarding student.
"Boarding was an experience that I thought would truly prep me for what college has to offer," said Mason. "I think boarding gives you a better opportunity to use resources the school has to offer, which was the reason I decided to come here."
Mason's roommate, Xavier Thibault '18, had great things to say about their experience together.
"Mason isn't just my roommate, he's one of my closest friends," said Xavier. "Coming from Quebec City, Canada, I did not know anybody when I arrived. Not only did Mason make me feel welcomed, he made me feel like I was at home."
"I see him as a brother," he added. "We live together, hang out together, and I even stay with his family over long weekends. Everybody I know loves Mason, and I think that really says a lot about the type of person he is."
During our interview Mason saw a middle-schooler who played on the JV Football Team. Instead of just ignoring him, Mason stopped and talked to him for five minutes. This might not seem like much, but it really speaks loudly about what type of person Mason is when he's off the field.
During the signing of his National Letter of Intent to Bryant, there was a huge group of students there to support him. So many people, that when they took a picture of him and all his friends, more than half of them got cut out of the picture.
Noah Clack '18 was there supporting Mason when he signed.
"Everybody was there for Mason, we all know that he deserves it more than anyone," Noah said. "He's a beast on the field, but off the field he's an absolute bro," said Noah. "People who don't know him should try to get to know him. He's as real as they get, and he's willing to do anything for the ones he loves."
Mason believes that coming to Williston was the best decision of his life.
"This school helped shaped me into who I am today, and even though I haven't been here long I have learned enough to last a life time," said Mason. "Without Williston I wouldn't be the person I am today and I'll always be thankful for the time spent here."