How Williston Will Celebrate Its Seniors from Afar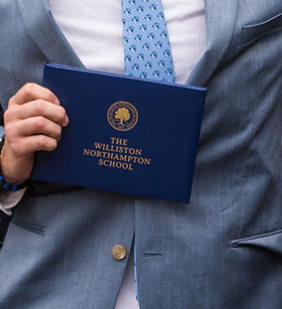 Senior spring should be special. Students are in to college, and relieved that all their hard work paid off. No more SAT prep, no more long study hall nights writing a thousand admissions essays; now comes the fun part. Things like prom, baccalaureate, and graduation traditionally have held a special place in seniors' hearts.
But this year, of course, is different.
In an April 29th email, Mr. Hill wrote, "In my 10 years at Williston, my favorite traditions have involved the senior class and the spring rituals and ceremonies that lead up to and culminate with Commencement … I know you were looking forward to them as much as I was, but we are going to do our best to honor your class despite the upheavals of the pandemic currently still gripping the country."
Hill then continued on to confirm that on May 23, the scheduled date for commencement, there will still be some kind of celebration.
"I can now say with certainty that on the morning of May 23 at 9:30 a.m., Williston will live stream a ceremony in which Chair of the Board of Trustees, John Hazen White Jr., will come to campus to virtually celebrate your class. He and I have been discussing the best way to handle this important event, and he insisted on returning to campus to mark your graduation from Williston with me from the majestic and familiar backdrop of the Phillips Stephens Chapel."
Additionally, according to the class of 2020 page on the Williston website, there are still plans to gather together in the future despite the current uncertainty.
"We have already started on planning an in-person, on-campus celebration for seniors and their families, based on surveying the senior class about their wishes for that gathering. Though we don't have a definite date yet, we will continue to monitor the status of the virus, and as soon as we have a firm sense of when it will be safe to gather, we will send you more details and confirm the date."
According to Erin Davey, a faculty advisor to the student council, Williston plans to do their best to honor the class of 2020.
"The online graduation will acknowledge award winners and senior book prizes through a live stream- there will be a senior speaker and Mr. Hill will address the class. It should take about 45 minutes and we're hoping to celebrate the entire classes accomplishments as best we can!"
This time represents the last ride, the rites of passage they've been looking forward to for years; and for the class of 2020, this special time has been abruptly cut short. Amid the global pandemic, seniors all across the world are unable to celebrate one last semester with their class.
Despite the disappointment, however, many believe the show must go on. From at home proms on TikTok to virtual graduations, people are finding a way to celebrate their seniors. Instagram pages are taking the place of decision day celebrations, for example- @willy2020grads on Instagram is asking seniors to send in what school they're going to and then helping them celebrate.