How Public Schools are Faring in Covid Times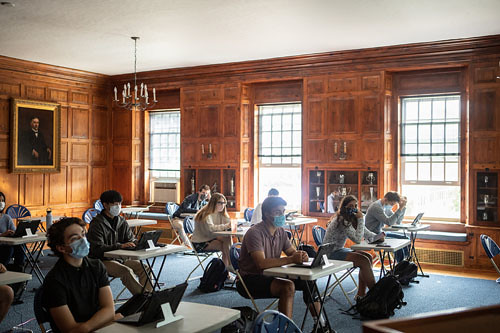 Public schools are handling the Covid pandemic in a vastly different way than private schools.
The Covid-19 pandemic puts an abrupt stop to last year's classes for both private and public schools. With no time for action, every school had no choice but to shut down in-person classes. Now that there has been time to formulate a strategy, the response is very different from school to school.
Since private schools can create a bubble and keep a close eye on cases, they have more control over holding in-person classes. That hasn't stopped public schools from trying, though. Some public schools are already holding in-person classes.
Among those schools is Canton High School in Massachusetts. In person classes started on Monday, September 28, and while school is still mostly remote, the risk for exposure during in-person sessions is greater because there is no "bubble" and no testing.
Javi Ferstler, a senior at Canton High School, is nervous about the plan.
"I am not confident in Canton's handling of the virus," he said. "So far it seems like they are unprepared."
Javi is also having trouble connecting to Zoom, in some cases causing him to be late to class. This problem is not unique to him.
"Currently students are having problems with Zoom, myself included," he said. "I use a chrome book to do all of my online learning and I have major problems with online classes … It takes a long time to connect to classes which could make me 'late' to class."
Annie Dunn, another senior from Canton High School, is slightly more hopeful in the school's plan, which involves proper social distancing and mask-wearing in the classroom.
"I'm kind of confident," she said. "We're doing hybrid in the high school and everyone is 6 feet apart and wearing masks."
Annie does believe, though, that all-remote would be a safer and more affective strategy.
"Going all remote would be a bit easier," she said. "We could just stay at home, away from everyone, which is safer."
While Williston's technological issues have been noticed, it is clear that public schools are having even more trouble, due to the larger amount of students being online. These issues are drawing less criticism, however, than the overall safety plan that public schools are adopting. Some are not confident in this plan, but some are.
Dr. Angela Nervi, a long-time teacher in Canton, is confident that the new plan is thought-out.
"I think the new plan takes safety into consideration," she said. "Reducing numbers in the classroom allows for more distancing. Having half the number of students in the room definitely helps kids be safer."
While Dr. Nervi is confident in the plan, she is aware of the risks involved, and she believes that positive cases will make their way into both cohorts.
"There is no testing, just an honor code for symptoms and exposures," she said. "Large groups of kids are in cohorts together. Those factors I believe are going to result in an escalation of positive cases, which will then come in to both of the cohorts."
According to Mass.gov., Canton had 21 new Covid cases from September 16 to September 30th (14 days). While Canton's population is relatively high, at around 24,000, 21 cases in 14 days is still not ideal for the two weeks preceding the opening of school.