How Masks Have Become Part of Everyday Life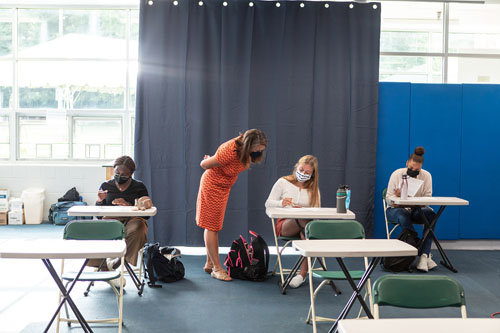 Opening during a global pandemic, Williston has to maintain regulations to make sure there is a safe environment for students to study and live. These regulations include wearing a mask in a space with the presence of other people. This rule is followed well by the students.
Wearing a mask has made a  significant impact on students' social life, however, since they can only see people's eyes, and all photos of Williston students on social media include masks.
Angela Tsai, a junior from Taiwan, feels that at first, wearing a mask all the time hasn't been easy. "I feel like wearing a mask is so inconvenient," she said.
She feels that masks block voices and air, which affects her conversations with others and her daily experience. "Besides not being able to listen or speak clearly," she said, "I feel dizzy sometimes because of the lack of air."
However, the situation is getting better for her, and she believes that it is necessary to wear a mask to keep everyone on campus safe. "Things are getting better as we get used to it," she said, "And it is necessary to do these protocols for our community."
Annika von Schoeler-Ames, a junior day student, is very comfortable with masks in her daily life. "I have not had any trouble wearing a mask on campus," she said.
Wearing a mask has already became a part of her life, and she considers it to be an important part of being a responsible student on campus. "It became part of my daily routine very quickly and I know that wearing a mask is necessary to maintaining on-campus activities," she said.
Annika is a cross-country runner and they are required to wear masks all the time, except when they are actually running. "During cross country practice, we wear masks when stretching and running close together, but we can take them off if [we are] running far enough apart," she said.
It is not an easy task, but it does not concern her too much. "It's definitely not ideal to run with a mask, but it isn't awful," she said.
The Centers of Disease Control and Prevention (CDC) affirms that wearing a mask, especially collectively by groups, efficiently helps to reduce the spread of Covid-19.
On July 14, 2020, the CDC published an editorial in American Medical Association (AMA), saying that "Cloth face coverings are a critical tool in the fight against COVID-19 that could reduce the spread of the disease, particularly when used universally within communities."
"There is increasing evidence that cloth face coverings help prevent people who have COVID-19 from spreading the virus to others," CDC said.
As a day student, Annika goes between school and home everyday, and she sees all kinds of people on her way. She is "very annoyed," she said, "when people don't wear masks in the streets."
She believes that it is a small action that everyone should do to help the community. "Wearing a mask is such a small sacrifice that will help everybody, and it strikes me as extremely selfish when people refuse to wear masks in public," she said.
As the boarders are now allowed to go off campus, they have various experiences interacting with people they know and don't know outside of campus who are not necessarily wearing masks.
When students go to take deliveries from the restaurants in Easthampton, they interact with people in the town.
Angela and her friends ordered a meal from POH-keh bowl over the weekend, and they walked there to get takeout. "My experience in town feels great!" she said.
She feels secure in Easthampton because "Everyone in Easthampton has their mask on," she said. "I do feel safe!"
She is also glad to see how the town has become livelier since the beginning of the trimester. "[At the] beginning of the school year the town looked desolate," she said, "but it's good seeing people in town again."
Leave a Comment