"Handmaid's Tale" Star Ann Dowd to Address Commencement Crowd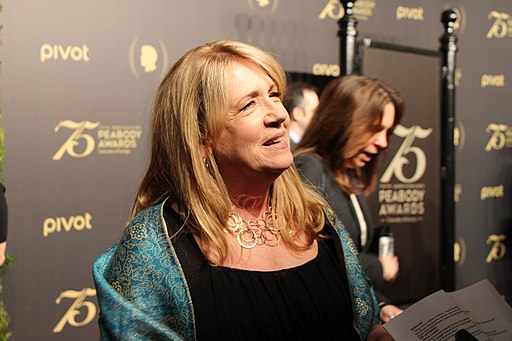 This year's Commencement address is getting a dose of Hollywood stardom in Ann Dowd, famous actress, multiple award winner, and proud Williston alum, who will be arriving back on campus to speak to the class of 2019 at their May 25 graduation.
Dowd, Williston class of 1974, has starred in many famous movies and TV shows, such as Marley and Me, The Informant!, Side Effects, and her most recent role, The Handmaid's Tale.
Based on the 1985 Margaret Atwood novel of the same name, The Handmaid's Tale is a dystopian drama in which the remaining fertile women, called "handmaids," are brutally subjugated and forced to bear children for the ruling class of men.
Through her role in The Handmaids Tale, as Aunt Lydia, Dowd, 63, has become a sensation; she has been nominated for and won many awards, including the Critics Choice Award in 2018 for Best Supporting Actress in a drama series, the Primetime Emmy for Outstanding Supporting Actress in a drama series in both 2017 and 2018, and a nomination for the Golden Globes Award of Best Performance by an Actress in a Supporting Role in a series.
In an article on Williston's website from November 22, 2017, Dowd, who was born in nearby Holyoke, tracks her love for acting back to her time on campus. It was here, she said, where she truly "fell in love with theater."
Head of School Robert Hill is very excited to have Dowd back on campus. After exchanging texts with her, his excitement only increased.
"I think that everybody is pumped to have her come," Hill said. "She is extremely excited about coming back to her alma mater, even with her busy schedule."
"I do know we made [senior] Ellie Wolfe extremely excited," he added.
Ellie, a huge fan of The Handmaid's Tale, campaigned for Dowd to come back to campus. "I'm a really big fan of her acting," Ellie said. "I talked to Mr. Hill about having her back on campus multiple times, never thinking it would actually happen." [Editor's note: Ellie is the Editor-in-Chief of The Willistonian.]
Ellie loves Dowd's work in The Handmaid's Tale, and is impressed, she said, by the "very clear connection between the treatment of women in the show and the treatment of women in the real world."