Gold Medalist Eileen Gu Sparks Debates on Privelege, Power, China-U.S. Relations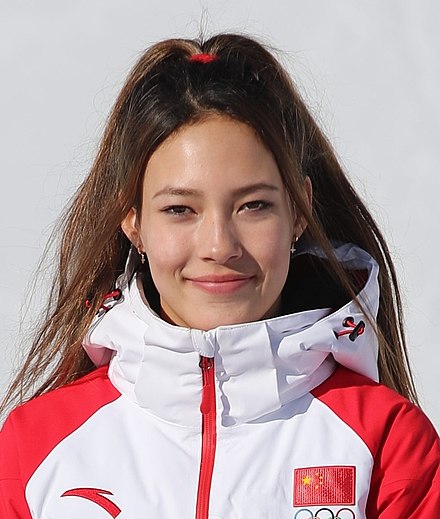 Eileen Gu is not only in the headlines because of her two Olympic gold medals as an 18-year-old, but moreso because of the discussions and controversy she sparked on privilege in education, women in power, and the identity between China and the U.S.
Eileen Feng Gu, known as Gu Ailing in Chinese, is an 18-year-old freestyle skier born in San Francisco who just finished competing for China in the 2022 Beijing Winter Olympics. She is the youngest Olympic champion in freestyle skiing, a model for prestigious fashion brands, and a Stanford student.
She won gold medals in the 2022 Beijing Winter Olympics' big air and halfpipe, and silver medal in slopestyle, becoming the first freestyle skier to win three medals in the Winter Olympics.
Her exploding popularity in both China and America is stimulating new debates surrounding female power and feminism, interweaved with social class and nationalism, and it is because Gu reaches the standard of success in both American and Chinese context, and navigates freely between the two political superpowers, which has never been done before by other celebrities.
Gu was born on Sept. 3, 2003 to her Chinese mother Gu Yan and an American father. She is a full-time student and professional athlete. Gu started skiing at the age of three, competed for the United States in the 2018–19 FIS Freestyle Ski World Cup, and started competing for China in 2019.
Stated several times by Gu in interviews, and as restated by The New York Times, she chose to compete for China because she wants to promote the popularity of freestyle skiing in China and empower Chinese young girls.
Gu first got the idea of representing China when she was in China, and was inspired by the excited atmosphere for the Beijing Winter Olympics surrounding her.
"I have very very deep roots in China," Gu answered in an interview. "I was in China when it was announced that the Olympics would take place in Beijing, and being able to feel the energy and the atmosphere there just made me start thinking at the time. I think I was ten years old or 11. I started thinking about competing for China."
"I was witnessing the explosion of a sport that people had not even known existed in China," she continued, "…what I started to realize was there was nobody like that who I could look up to in China at the time, and the possibility of me becoming that for somebody else I think was just so inspiring … especially my mom's hometown."
Gu was raised by her mother and grandmother, who are both from China, and she spends vacations in China.
"I preserve [my identity] by having friends and being able to communicate with people," she said in an ESPN Asia interview, "because that's the best way to transmit culture."
Gu's popularity as an athlete has made a lot of Chinese women reflect on the current toxic beauty standard in China, some saying she might change the unhealthy standard forever. As Gu has observed, "sports are ingrained in youth culture in the U.S.," but in China, there lacks an emphasis on sports in young people's growth and education, especially among girls.
Gu's attempt to face inequalities started when she was very young. She recounted a childhood experience in China in the ESPN Asia interview: "I played basketball over the summers in China, I was the only girl on the team," she said. "I met a friend in a math class that I was taking, during the day, so I was like 'hey, you should come to this basketball program that I do at night,' she said, 'okay, whatever,' so she came and all of a sudden I wasn't the only girl anymore."
Eventually bringing her whole math class to the basketball team, Gu said that she knew sports culture still had room to grow in China. She said there is also less accessibility to sports for Chinese youth. Unlike Eileen, not everyone has the opportunity to ski with a ski coach mom.
People have also dug up her middle-school speech on equal-pay for athletes, and through that, many Chinese women are able to peek into the difference in the progress of gender equality in China and America.
Some Chinese young women even stated that if Gu were to grow up completely in China, she would still be successful and gifted as she is, but she might not have the same charisma and power. They think that Gu, as a result of growing up in the States, had the privilege to expressing herself freely as a young girl that they did not have.
However, despite her privilege, Gu definitely has a huge impact on Chinese young women. She said in the Chinese TV program "The Winter Olympics is Here" that, "I see too many people dangerously restrict their diet because they want to be skinny and pretty, but they can't even run three km or five km … that's not beauty, because that's not healthy."
Gu had sparked Chinese young women to discuss the pressure of the skinny, white beauty standard required of them. Some also said that they have started running and exercising because of her.
Others question these young women on why they only realized until now, and I think it is likely because Chinese young women have long been internally battling with the toxic beauty standard and their restrictive gender roles, and there certainly have been attempts in the past, but Gu was the first one who was able to publicly state it, and give voice to young women, in mainstream Chinese media.
There have been other celebrities who counter the traditional gender roles and body type in China, but Gu is the first one to gain such popularity and recognition internationally, which in some way promotes the notion that women are never enough, and it takes a woman to be as successful as Gu to be recognized.
Gu gained attention not only because of her success in sports, but also with her 1580 SAT score, graduating from high school one year early, and entering Stanford University. This made people reflect on the role of class in education, as well as the difference in American and Chinese education.
Gu's mother Gu Yan went to Peking University for chemical engineering, moved to the U.S., and earned an MBA at Stanford. Gu Yan was on the Peking University Women's Speed Skating team, and worked as a skiing instructor.
Gu Yan has become an inspiration herself. She raised Eileen by herself, which proved to Chinese women and society that single-parent families are just as good, and dissipates stigma surrounding the lack of father in a child's upbringing.
Gu Yan gave birth to Eileen Gu at the age of 40, and continued to work afterwards, which relieved a lot of women's age anxiety.
Gu's winning of gold medal has drawn attention to other events in China, including human trafficking in Xuzhou, Jiangsu. It is known as the "chained woman" case on social media, and its popularity surpassed that of the Olympics, although the Chinese government kept suppressing the discussion of this issue.
The chained woman case started with a charity activity, and a family of a father, a grandfather, and eight children were picked as the "typical" family of the village for demonstration, possibly catering to the idea that more children equals a rising quality of life in rural areas. The father was even made to be a "model father" who looks after eight children.
After, Douyin (Chinese TikTok) influencers, tried to join the activism; however, in a live video, there appeared in a small shabby house to the side of the family's house a woman who was chained on her neck with no teeth and no thick clothing in extremely cold weather. She was said to be mentally unstable and repeatedly said in the live feed that "the world does not want me" and "this is a house of rapists."
The original owner of the Douyin account who broadcasted this live feed has already deleted all of his videos. There have currently been four official announcements on this case, all of them consisting of lies which have then been proven wrong by social media. Two women tried to drive to Xuzhou to see the chained woman, but were attacked on the highway and are now in detention.
Right now there are three possible identities of the chained woman, and there is no way of knowing whether she is the only chained woman in the area.
Because of the juxtaposition of the two events, some people criticize Gu's popularity in China, saying that she can never represent or be a real Chinese woman, especially those in lower class, and that the Chinese government's promotion of Gu's image is just another way to disguise the real issues.
Chinese women in the lower class can only look up to people like Gu, but can never reach a position anywhere near her. Many people find it ironic to see them in the news together.
Other discussions and criticisms land on Gu herself. On top of the conservatives in America who consider Gu as betraying the U.S., Chinese Americans have found parallels of themselves in Gu.
The New York Times interviewed Chinese Americans on their opinion towards Eileen Gu. Most believed that she is very brave being able to be proud of and stand up for her identity as both Chinese and American. They also expressed how as the political tension between China and the U.S. intensifies, it is going to be more difficult for them to not choose between a binary.
According to the article, Gu repeatedly stressed that she wants to avoid political discussion, and promote "inclusivity" rather than division. Some Chinese Americans question how Gu speaks up about racial and gender inequality in the U.S., but avoids talking about issues in China, and even question her decision to represent China, knowing that there are allegations of human right abuses.
Others think that "her decision to compete for China should not be conflated with a political preference, arguing that it was unfair to expect someone's identity to represent a country or its political climate. (Others noted that she was just 15 when she made the choice)," the article stated.
Leave a Comment