Girls Can't Play Baseball, NEPSAC Says. Why Not?
Freshman Shoko Ishikawa plays baseball back home. She practices all the time. It's her passion. When Spring rolls around this year, however, Shoko won't be on the field with the boys, because official prep school rules in the States prevent her from playing what's considered a boys' sport.
Baseball has always been Shoko's passion. She started playing center field at age 10 in her home town of Tokyo, Japan. Continuing to play was part of her plan when she arrived as a freshman this fall. It wasn't until the end of the first trimester that Shoko learned baseball might not even be an option.
In Japan, women's baseball is very popular. The Japan Women's Baseball League, JWBL, was founded in 2010 and is the highest level of women's baseball in the world. Games played between the four teams in the league can draw up to 5,000 spectators. About 30 private high schools in Japan have women's baseball teams. Shoko would have played on one if she hadn't come to Williston, she said.
However, NEPSAC, New England Private School Athletic Conference, to which Williston and its peer schools belong, doesn't allow girls to play baseball.
"Girls are not allowed to play baseball at the varsity level in NEPSAC. The sport is designated as Boys baseball," said president of NEPSAC Bob Howe.  "We classify a large majority of sport programs by gender to insure equal opportunity for males and females to participate on teams at their schools. Imagine if we allowed girls to play baseball, what would we say to the boy who wanted to play softball?" Mr. Howe told The Willistonian.
Williston's Athletic Director, Mark Conroy, echoed Howe's sentiments.
"I would say that generally over the years at Williston [it's] sort of generally accepted policy in NEPSAC schools is that if there is a comparable sport," Conroy said. "And it's a little tricky too but we've always thought with baseball in the spring, baseball and softball are comparable. So, if a boy wanted to play softball we'd say that you need to play baseball. If a girl wanted to play baseball we'd say that softball is comparable. While they're not the exact same sport they are definitely comparable."
Head Varsity Baseball coach, Mr. Sawyer, doesn't mind girls playing baseball. He has coached coed youth teams in the past, but he knows NEPSAC's rules won't allow Shoko to play.
"I feel torn about this issue," said Sawyer. "On the one hand, I love the game of baseball and want players who love the game to get a chance to play it. Personally, I have no problem with girls playing baseball at Williston. I enjoyed coaching girls at the youth level in both Easthampton and Northampton over the years. On the other hand, I do think that softball, while not exactly like baseball, is a comparable sport. I can see that issues might arise if both baseball and softball become coed sports at independent schools. My guess is that the NEPSAC discussed these issues and decided that they are comparable sports."
Heartbroken, Shoko still trains every day. She's constantly on the treadmill or swinging a baseball bat in her room. She told The Willistonian she's not planning on quitting.
"I just want to play baseball," she said.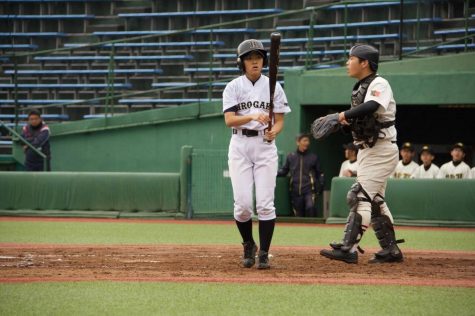 According the NEPSAC there are no rules regulating if girls can play on the Boys JV baseball team. Mr. Conroy told The Willistonian how rarely schools actually let this happen.
"NEPSAC does not have any rule related to allowing girls to play JV Baseball only or boys playing JV Softball for that matter," he said. "This would be a school decision.  Some schools might approach it this way though to be truthful it is very rare.  I cannot recall a girl playing on an opposing baseball team in the past 19 years."
Mr. Conroy very politely and honestly said Shoko would most likely not be allowed to play JV Baseball this spring.
"At this point I would say no," he said. "I mean based on what we've done over the years there is a comparable sport. Softball is a comparable sport."
Mr. Conroy hopes Shoko goes out for softball in the spring " and ends up having a positive experience."
Mr. Sawyer had the same idea.
"I know that Shoko has played a lot of baseball, and I love her passion for the game," he said. "I think she would have a wonderful experience playing softball at Williston, especially since I have such respect for Coach [Erin] Davey. There is no doubt that Shoko would enjoy playing for Coach Davey and would contribute to the softball team in a positive way."
Shoko has never played softball before. She has watched her sister play while at home but isn't sure if the sport if for her.
"I want to play baseball," she said. "But I don't know. I think I can play softball and I can enjoy it. I just want to play baseball."
While NEPSAC considers softball and baseball comparable sports, Conroy and Sawyer recognize they aren't the same game.
In baseball the mound is 60 feet and 6 inches away from home plate, but a softball mound is only 43 feet away. The bases are 90 feet apart in baseball and 60 feet apart in softball. Baseballs have a 9.25 inch circumference, whereas softballs have a 11 inch circumference. Even the pitching style is different. Baseball pitchers through in an overhand motion; softball pitchers are required to throw underhand.
Shoko isn't sure what she's going to do this Spring. She knows her love for the game isn't going to disappear, and hopes to see baseball develop as a girl's sport.