Gabby Petito Case Shines Light on Unreported Missing Indigenous Women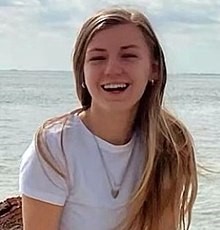 A body discovered in Wyoming on Sep. 19 has been identified as Gabby Petito, a 22-year old reported missing in early September. The case has sparked nationwide interest while also drawing controversy.
Gabby had been on a road trip with her boyfriend when she suddenly stopped communicating with her family.  They reported her missing on September 11 and the search for her started on the 18.
Gabby's fiancé, Brian Laundrie, remains the main suspect in the case; she was last seen with him on the start of their trip in late August.  Laundrie is still missing; police are searching the Florida area were he was said to have returned to early September.
Laundrie reportedly returned to the couple's shared home on September 1 and was last seen on September 14 by his family.  As of right now there is a manhunt for Laundrie in an 80-mile stretch of the Florida wildlands, and a warrant out for his arrest.
Rosie Crooker, a senior boarder from New Hampshire and a former writer for The Willistonian, wrote an article last year about Sarah Everard, a women who went missing and was then found murdered in London. Rosie said she was upset to find a similar case had happened so soon after.
"I think its kind of disappointing, there hasn't been a big enough world wide effort to protect women from violence," she said.
Another reason this case is making headlines is because it falls into the category of "missing white women syndrome," a term coined by broadcasters and media pundits who noticed a pattern in media coverage focusing heavily on white women and excluding women of color, especially with the disproportionate amount of missing Native women.
Peter Gunn teaches Native American History, and said he has sympathy for the case but agrees more most be done for Native women who go through the same thing.
"Gabby Petito and her family deserve our fullest sympathy and devotion, but so do the hundreds of indigenous women currently missing in Wyoming" he said.
Gunn added that there is no "cure all" to this phenomenon.
"There are no "silver bullets" to use against this complex social threat, but re-authorization of the Violence Against Women Act would be an important part of the process," he said. "A transparent public debate about that law would encourage the media to engage with the experience of all Americans instead of focusing on a perpetuating the dysfunctional mythology that some people are created more equal than others."
Rosie agrees not enough has come from the aftermath of the Everard case, and she is not hopeful for the future.
"I think some people who weren't aware of the things women have to overcome daily became aware of them, but I think on a general scope there hasn't been a been a shift in how women are treated," she said.
Leave a Comment