English Department Recognizes Students of the Trimester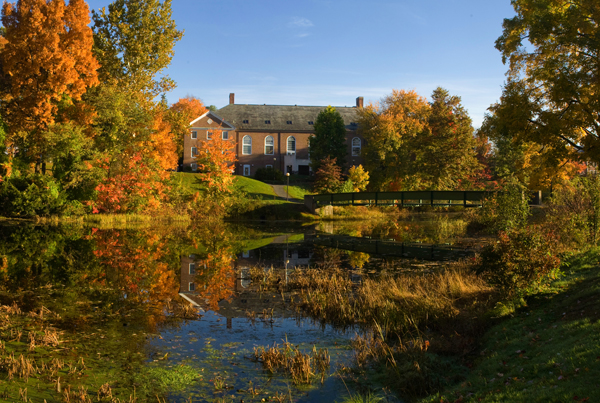 The English Department would like to honor the following students for their exemplary work in English class during trimester two. These students are creative, determined, and generous, and we value their contributions to our classrooms.
7th Grade
Ben Wolfson
Ben has been a vital part of our Middle School community throughout the year. Whether he's playing the piano at the Winter Warmer or studying in the Whitaker-Bement work spaces, Ben has become an excellent role-model for his peers. In English, Ben continues to set the bar high for all members of the class. In particular, Ben's creativity and diligence were on full display throughout our "I-Search WWII" project, writing an impressive first-person account detailing the Nuremberg Trials.
Catie Spence
Mature beyond her years, Catie has blossomed into an integral part of our Middle School community, brightening up the halls of Whitaker-Bement each day. In English 7, Catie has been a rockstar throughout the entire year, handling each assignment or in-class discussion with grace and consideration. On her "I-search WWII" project, Catie detailed the 1936 Olympic Games through a first-person lens, painting an incredibly realistic view of the setting for readers.
8th Grade
Pippa Berry
Pippa continues to stand out this year with her mature level of thinking and expressing herself through writing. She has mentioned many times that writing is her passion and this can be seen throughout many of her academic assignments. Her work on MLK Jr. day stood out to me because she wrote two poems from such a personal and reflective space. Her use of imagery in these poems worked beautifully to capture the emotions of the reader.
Sasha Kracauer
Sasha's delightful personality really comes across in her writing. During her work with the play Macbeth this trimester, Sasha has had a few opportunities to write creatively and has really shown her strengths in those assignments. In her short story titled "The Kingdom of Khan," Sasha writes from the perspective of a tyrannical leader who is visited by three witches who convince her to change her ways to benefit her kingdom. She took a prompt given to her and put her own personal spin on it and the result was magic!
9th Grade
Cristina Reyna San Martin
Cristina has done consistently strong work in English this trimester. As a writer, she has made excellent progress clearly developing her ideas. Her grades on her recent tests and quizzes prove that she is focused on discussions in class and diligent with her studying outside of class. She is becoming one of the better students in an already strong section.
Sage Friedman
Sage is the consummate English student.  She reads with purpose and with the mind that there are questions that need to be asked and grappled with.  When she arrives for discussion, she has an acute handle on the material and helps take our class below the surface of the iceberg to fully engage with the text.  In addition, her writing is articulate, organized and insightful.  And if this weren't enough, the rapport that she has with her classmates and me make her a joy to be around.
10th Grade
Devon Morgan
Devon has been an exemplary student in sophomore English this trimester! She can be counted on to lead the charge each day, with a steady blend of positive energy, curiosity, and generosity, all of which come across during our discussions of the material, small group activities, homework submissions, and in-class journal responses. Way to go DevMo!
Sian Lewandowski
Sian is a passionate English 10 student who has worked hard during the first half of the year to improve her critical reading, writing, and thinking skills. Sian is constantly engaged, and dives into the text, whether it's Oedipus, Othello, or Sherman Alexie's Flight, to provide insight that is beneficial to her peers. She wrote particularly well about Antigone, weaving in her own personal experience in relation to the text.
11th Grade
Ethan Huang
Ethan Huang has developed into a quiet force in our American Lit class.  Never one to bogart the mic, Ethan is so valuable to our group because of his willingness to look below the surface of the text and ask questions that force his peers and me to grapple with meaning.  Over the course of the year, he has gained the confidence to look outside the obvious and take calculated risks with his analysis.  In addition, his writing is organized, well-articulated, and shows a level of sophistication that has made him one of the top analytical writers in the class.
Brie Banas
Brie is the best! The consistency and effort that she brings to my class is second to none. She pays careful attention to our texts and  is always ready to delve into the ambiguity of our topics. All of her writing has been exceptional, but especially impressive was her exploration of Power Dynamics in One Flew Over the Cuckoo's Nest.
12th Grade
James Lustig
In Writers' Workshop, James Lustig has been a force of creativity and curiosity. From his experiments in dialogue and narrative voice to explorations of setting and tone, James has expanded the idea of what the short story can do. In his most recent piece, a collection of linked short stories, James gets on the ground level in rural Vermont to explore the complicated lives of convicts as they plan a heist. It's gripping, slightly off-kilter, and completely engaging.
Christian Anzeveno
Christian is a consistent leader within his English 12 class. Although he might not be the most vocal at times, Christian has an astute ability to deconstruct the test and find a deeper meaning. Christian doesn't just take an answer at its face value; rather, he makes it his challenge to find his own answers.
Leave a Comment