Dr. Raj: The Most Interesting Man on Campus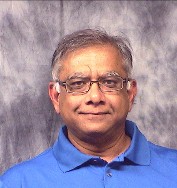 Hang on for a minute...we're trying to find some more stories you might like.
Dr. Rajendra Shrivastava, Dr. Raj for short, is a new face on campus this year, and he's making a big impact in the Technology Department, among other places.
The Computer Science, Robotics, and Digital Circuitry teacher is a new fan favorite around school with students and other teachers as well.
Dr. Raj told The Willistonian he lives his life by the motto "work hard play harder." He enjoys travelling and catching up with old friends from all over the world.
"Weekends and breaks I get away to  Boston, New Jersey, New York City, Pittsburgh, or California," he said. Despite his far-reaching travels, Shrivastava said he also looks forward to the workday routines and interactions with students. But when he's home, he said he tries as best he can to separate work from life.
"I try not to take my work home," he said.  "Proper time management and work ethic allows me to do it quite successfully." With this balance, Dr. Raj allows himself the ability to unwind at home and focus on his other hobbies.
"As I age I try to become more and more idealistic in my ways and daily practices – health, mind, peace, love, compassion," he said. "Yoga, exercises, positive lifestyle."
On top of teaching, Dr. Raj is also the coach for the Robotics afternoon program and the JV Girls lacrosse team in the spring.
Dr. Raj was born in India and lived there for 25 years, when he moved to Louisiana. He was given a full scholarship to enter a PhD program at Louisiana State University. For his doctorate, Dr. Raj majored in Computer Science and minored in physics.
He became a professor at LSU (where he taught basketball legend Shaquille O'Neill). After Louisiana, he then moved to California, where his eldest daughter now attends college. She is now an MD student at USC in Los Angeles, and graduated from Berkeley with her Bachelor's degree.
Cam Mariani, a junior at Williston who took Dr. Raj's Robotics course during the second trimester this year had nothing but great things to say about his experience.
"I looked forward to class every day, but even more so for Dr. Raj's stories," Mariani said. "It seems like he has been everywhere and done just about everything a person could want to do. He has got to be the world's most interesting man!"
Papa-Sam Essuman, a senior, could only echo what Cam had to say. "He is the sole reason that Robotics was such a fun class for me," Papa-Sam said. "The satisfaction I gained from that class with the help of Dr. Raj was incredible. I would take another class with him in a heartbeat."

Jake Durocher '18, Staff Writer/Editor
Jake Durocher, is a repeat Senior from Rochester, MA. He is known around campus for his strikingly handsome features and lavish sense of style. In his...