Continuing Tradition, Williston Seniors Plan to Pursue the Arts in College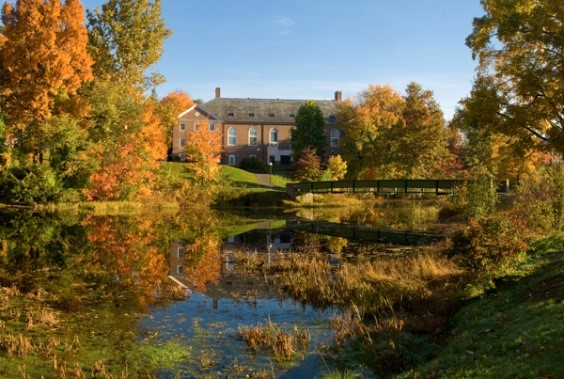 Hang on for a minute...we're trying to find some more stories you might like.
For Williston's visual and performing artists, spring is a season of "lasts"— last photography collection, last painting exhibit, last choral concert, dance performance, or musical of their high school career. But it is not the end of their artistic career. Ten artists in the senior class will continue to focus seriously on the arts in college.
Williston has a tradition of sending students to impressive schools to pursue the arts. Recent graduates have attended competitive conservatories and institutes like Berklee College of Music, Rhode Island School of Design, Pratt Institute, and others. Also, many have majored or minored in visual or performing art at liberal arts schools.
This year, Tiger Chen '18 and Emily Wu '18 will continue their visual art expertise at New York School of Interior Design and New York University, respectively.
Emily has been painting since she was five years old, originally learning traditional Chinese painting. At Williston, and at a RISD summer camp, she discovered new mediums, but more importantly, she realized her goals with art.
"I find art most interesting and comforting to me when I view it as a hobby not a career," she said. "I decided not to go to an art school, but I definitely want to do something that involves art in the future." Emily plans to major in Media, Culture, and Communication. For her college application she still had to create an art portfolio and website to showcase her talent.
Williston's performing arts department has produced a wide range of college bound artists. Haley Beecher '18, Josh Holmberg '18, and Kevin O'Sullivan '18 will pursue theater at Sarah Lawrence, Skidmore, and UMass Amherst, respectively. Elise Dunn '18 will pursue comedy and theater at Fordham, while Risa Tapanes '18 will continue stage managing at Emerson. Triniti Slaughter '18 and Ainsley Holman '18 may minor in dance at Cornell and Syracuse, respectively, but they will both definitely be involved in dance groups. Tori Zingarelli '18 will attend Berklee College of Music to continue her career as a singer and songwriter. Harrison Winrow will continue to be involved in the performing arts at Skidmore, but unlike the other theater students, he did not go through an audition or portfolio process.
"These kids are super talented," said Emily Ditkovski, Williston's Director of the Theater. She praised their selflessness and gung-ho attitudes. "The issue is they all have so many different interests," she said. "It was kind of hard to figure out if they wanted to do theater or do musical theater or go to liberal arts schools."
Haley is excited to continue her passion for theater next year. "I've wanted to study theater in college since I was in the 7th grade," she said. "People always told me that once I went to high school, I would find another major to pursue in college, like business or education. But I just knew that I wanted to become an actress and singer, and college is the place to get your foot in the door of the theater world."
She had to audition or create videos for 10 of the 12 schools she applied to. Each college wanted different things, so she found herself memorizing three or four monologues and songs on top of schoolwork and playing Mrs. Gibbs in Our Town this fall. "Some [auditions] I sent a video of me doing one or two monologues, and singing one or two songs. Some I did in person with two or three hundred kids. It kind of felt like 'Dance Moms,'" she said.
"I knew in about the fall that I didn't want to be in a conservatory—it's such a large commitment," she said. "You basically do theater and nothing but theater all day every day. For me, I wanted to get somewhat of a normal college experience, while getting great training, which is what Sarah Lawrence offers me."
Haley is not alone in her attitude. All of these students, except for Risa, Tiger and Tori, wanted a typical college experience focused on the arts, potentially with a major, minor, or strong extracurricular presence and classes.
Harrison decided not to audition at all in the college process because he was still unsure about where he wanted to go or what he wanted to do. "It's because I want to pursue more things than just theater," he said. "I like having my hands in a lot of different pies. A psychology pie, an engineering pie, an environmental science pie, an English pie, a creative writing pie." Since Harrison has decided to attend Skidmore, a liberal arts college with a strong theater program, he believes he will "find a stage," whether in acting, dancing, or even playwriting. "If it wasn't for the Williston theater, I don't think I ever would have discovered this part of my life and my identity," he said.
Similarly, Triniti and Ainsley did not audition or create portfolios to supplement their applications, but they are excited about the option of minoring in dance and joining various dance groups on campus. Ainsley plans to minor in dance, and she just went to Syracuse to audition for a jazz/pom style dance team that performs at athletic games.
"I really wanted to continue that and supporting other people, and I love dancing so it will be a really good way to incorporate both," she said. Triniti hopes she can join her friend and alum Destiny Nwafor '17 in a hip hop group at Cornell. Triniti has danced in almost every Williston concert since freshman year and hopes to expand her choreographing skills in college.
Although Tori has many different interests—singing, songwriting, musical theater, sports—she has decided to pursue music at a conservatory. Getting into Berklee was her dream, and even though she will have to give up some of her other favorite activities, like lacrosse, she knows this is what she wants to do. "I want to spread as much music as possible because I feel music is the only way this world can heal," she said. She hopes to be a performer, studio artist, or songwriter. "I want to be able to collaborate with different artists, get out of my comfort zone, and do music all of the time," she said. "In college, I want to meet new people who share similar goals as me and work to make those dreams a reality."
Risa will go to Emerson to continue her backstage work and be the backbone of performances. She is pursuing her BFA in Stage and Production Management and is interested in going on tour with musical groups or a theatre company. Risa makes the show go on, according to her actors.
"I love helping others achieve their goals," she said. "Combining technical and artistic aspects of a production is right where I need to be. I quickly found out I am no carpentry expert, and I'm not an amazing actress, so somewhere in-between, though important and in control, is what I've enjoyed."
Risa's application process was extensive because on top of every other typical requirement, she had to do detailed portfolios and resumes, including paperwork, script pages with notes, and photos from productions she has worked on, as well as written pieces of every production she has worked on. One school even required she submit three recommendations directly related to the arts.
Ditkovski acknowledged the heft of the artistic accomplishments of the class of 2018. "I think that they are going to be really successful, and they are just the kind of kids that make the most out of whatever program they are in," she said. "I just don't want them to leave."