Student Volunteers Cherish Time at Children's Center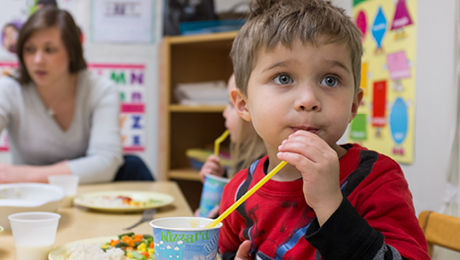 Hang on for a minute...we're trying to find some more stories you might like.
If you ever walk out of the back of the dining hall, you will likely get many waves and smiles from the little faces on the playground. While many Williston students go past the Children's Center nearly every day, few people know just how rewarding it is for the children — and the student volunteers.
For anyone interested in going into education as a career,  or just looking for a different afternoon activity, volunteering in the Children's Center is a perfect choice. It looks good on a college application and also has a positive impact on the kids. Three Williston students currently volunteer in the Children's Center during the afternoon.
Senior Rida Kareem loves her time with the little kids. She has been volunteering on and off at the Center since her freshman year.
"I believe we're someone for the kids to look up to, but can be more of a friend than the teachers. Seeing how excited they get every day when I show up reminds me how valuable the time spent is," Rida said.
The Williston Children's Center began in 2000 after eleven babies were born on campus that year. The Children's Center benefits faculty children as well as kids from Easthampton. 48 kids between the ages of 11 months and five years attend; one-quarter are faculty children.
On a given day, a volunteer can find kids painting, taking walks to the football field, reading books, and playing games. They also learn fundamental skills including basic geography and the alphabet.
Kiera Durrett '88 is the Center's director and has worked there 17 years. She was instrumental in hiring teachers and getting the school on its feet. When Durrett attended Williston, she knew she wanted to become a teacher.
"I love when students come in and use this as an opportunity to interact with young children in an authentic way," Durrett said. "It is also an opportunity to be in an assistant teaching role which is a big responsibility. And, most importantly, it is fun!"