Can You Graduate Without Taking Art and Religion or Philosophy?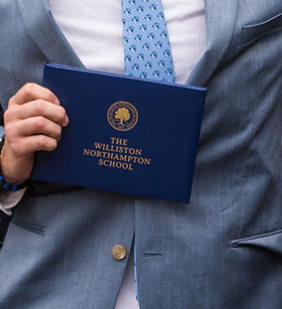 Hang on for a minute...we're trying to find some more stories you might like.
In recent years, students have received their diplomas without necessarily completing all of Williston's requirements.
Williston graduates are expected to complete three credits in art and one credit in religion or philosophy. But in the past couple of years, ten to fifteen percent of the senior class has not completed the requirements and instead received waivers, allowing them to graduate without the courses.
"Waivers are given because students just cannot find a way to fit in [the art and religion/philosophy classes] because of inflexibility in scheduling, which results from immovable AP and honors courses," said Greg Tuleja, Academic Dean. "More and more students are taking English, math, foreign language, science and history every year. Didn't used to be the case but now almost everybody is trying to do that."
If a student is having trouble with fitting in the art and religion/philosophy requirement, Mr. Tuleja works with the student, advisor and college counselor to come up with the best solution and schedule. Most of the students who waive these requirements are of high academic standing, and cannot fit in the extra courses among the APs and other classes that can not be moved.
Every year, Mr. Tuleja has to make judgments, unique to each student. "The only waivers that are given are given through advanced planning and understanding through my office," he said. "I think that there is a perception out there that waivers are given out more freely than they really are. A lot of students come in saying I got confirmed when I was younger, I did my bar mitzvah or bat mitzvah, so I heard that that was a reason to get waived from the religion requirement. That is absolutely not true," said Mr. Tuleja.
Ellie Wolfe '19 got her requirements waived because she takes journalism as a six class every trimester and can't fit anything else in. This winter will be her fifth trimester of the class, and she plans to continue taking it into her senior year. She would like to take a religion/philosophy or art class, but she is also happy she gets to focus on journalism without worrying about her requirements. "I'm disappointed that I won't be able to take cool classes like ceramics and Buddhism and classes that some of my friends liked, but I'm glad I have the opportunity to take journalism," she said.
Similarly, Ellie Scott '18 has a packed schedule, taking six classes for most of her trimesters at Williston. She took one art class sophomore year, but couldn't get the rest in, especially with Spanish outreach as her sixth class this year. The Academic Office was understanding. "I just talked to Mr. T. to explain my situation," she said.
The Academic Office does not believe it is fair to push students to take a sixth course if their schedules are full. Also, sometimes the course that students want to take cannot fit because of scheduling conflicts. "I don't like doing it [giving waivers] but sometimes I feel in the big picture, in the big context of applying to college, I have to," said Mr. Tuleja.
Tom Johnson, Williston's only religion and philosophy teacher, understands that students want to stack their schedules a certain way, but still believes they should fulfill their requirement. "I understand and to some extent sympathize with the pressures of having the strongest schedule possible, and the pressures that having APs puts on kids," he said. "My opinion, however, is one of the ways they could make that schedule stronger is to actually have the sixth course."
Many prep schools, like Andover, Exeter, Choate, Deerfield, Hotchkiss, and Northfield Mt. Hermon, offer religion and philosophy through a blended humanities program, or they require one credit of religion or philosophy, usually encouraging students to take more if their schedule allows.
"There is a reason why the very best prep schools, even those who don't have a strong religious affiliation, have this required elective," said Mr. Johnson. "The relevance of religion in a globalized world cannot be underestimated. Even for people who are not religious." Similarly, Mr. Johnson notes the importance of a philosophy class, which asks "fundamental questions" and teaches students how to think critically.
Senior Mika Sovjani took Western Religion this fall with Mr. Johnson. "It was probably the only class I've taken at Williston where I will remember the things I learned and apply them to the real world in the future," said Sovjani. She wouldn't recommend getting the requirement waived, and praised the class and teacher. "I loved the class and it allowed me to learn concepts that were relevant to more than just the history of religions."
Taking art classes give students a valuable opportunity to learn, according to Natania Hume, the visual and performing arts department head. "Arts are a way to explore the world, history and its people. The arts classes give students skills and techniques to express themselves and to communicate something about themselves, their ideas and their interests, to their audiences," said Ms. Hume. "Plus, they are super fun!"
Even though there is a lot of value to taking these classes, the Academic Office has to let some students waive them because the schedule does not fit.
There is more to waiving the requirements than just not being able to fit it in, according to Mr. Johnson. The religion and philosophy classes are challenging, but not AP or honors level, so students do not get the extra five-point bump in their GPA, which could deter some students. Mr. Johnson is aware of this and for that reason he is trying to make Existentialism an honors level course.
Being the only teacher for religion and philosophy Mr. Johnson estimates that the percentage of Cum Laude students who he does not see in class is somewhere between thirty and fifty percent. In the past two years, 22 of the 52 Cum Laude inductees, 42%, have not taken a religion/philosophy class at Williston.
"And the sad thing is, in my opinion, those are exactly the kids who should be taking religion and philosophy because if you ask the kids that take the philosophy courses, for example, they'll tell you the texts they read are unlike any other texts that they might come across in their Williston education," he said.
Williston is in the process of a curriculum review that could help combat the issue of some students not being exposed to the arts, religion, or philosophy while at Williston. Administrators are strongly considering a humanities course for the ninth and tenth graders that could weave English, history and fine arts together.
The religion/philosophy and art requirements have not changed in fifteen to twenty years, according to Mr. Tuleja. "We want students to get a broad well-rounded education in high school, and the one course in religion and the three courses in the fine arts is part of that," he said. Mr. Tuleja emphasized that the Academic Office has a true commitment to their graduation requirements. "We believe in their value," he said. "Sometimes we have to tweak some things."