"Black at" Accounts Shine Light on Campus Racism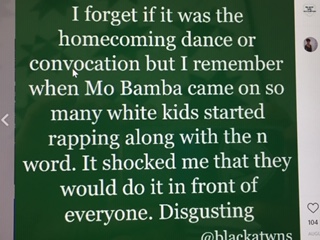 Students started an Instagram account during the summer of 2020 to amplify the voices of people of color on the Williston campus.
The Black at Williston Instagram account was started on June 28, 2020, and has nearly a hundred posts from POC students and alumni sharing their stories related to race at Williston.
With the killing of Ahmaud Arbery in February, Breonna Taylor in March, and George Floyd in May, the Black Lives Matter movement gained steam this summer, and the issue of racism – and its systemic nature in America — once again became the focus of nationwide attention. Williston became one of the many schools across the nation to start a Black at account to provide students a safe platform to tell their stories.
Black at accounts are where students of color at predominantly white institutions (PWI) share their stories on Instagram and other social media platforms about microaggression and racism.
As of Sept 21, there are currently 93 posts on the Black at Williston page. Other prep schools such as Andover, Choate, Deerfield, Exeter, Hotchkiss, Loomis, Middlesex, and Taft also have Black at accounts. Students can submit their stories through DM or a link to a Google form in their bio.
Submitters of all ages and races submitted stories, which included issues in their daily life experienced by themselves or people around them, and incidents addressing specific teachers or adults on campus.
Among the different kinds of contents that were submitted to the platform, there was a student who chose to send a video of a white student using the n-word and other offensive words along with the story.
The Black at Williston account used green and blue squares to cover up the two white students' faces in the video and changed their voices "for legal reasons and to protect personal privacy." Williston's handbook explicitly prohibits bullying, harassment, and intimidation of any kind – both in person and online.
"We blurred out people's faces, names and username because they are minors," they explained in their description.
Also included under the post was information for future submissions that are going to include videos. The Black at Williston account made it clear that they would strictly follow the law that protects minors. "If the name of a fellow student is submitted," they wrote, "we will keep their name and identity private for legal reasons due to their status as a minor."
It is also included that the faculty's names would be left uncensored to accomplish the mission of the account. "This decision is … to hold the adults of the Williston community accountable," they added.
"It's important that everyone's voice is heard, and their story is valued," said Erin Davey, Director of Inclusion and Community Life. "I think it's helping the community to understand micro and macroagressions that exist in our community."
The issues elucidated by the Instagram accounts resonate nationwide; students at a New York school chose to expose the detailed identity of the racists they were trying to call out, as reported by the New York Times article "High School Students and Alumni Are Using Social Media to Expose Racism."
Jayden York, an 18-year-old recent graduate of Bowie High School, was among one of those people. He posted a video of his former girlfriend attacking him racially in a Snapchat post. "In it, she used the N-word as she stated that she would 'never date' a black person again," reported the Times.
His video went viral on Twitter, and he said that this what the girl was facing was what they, as Black people, encounter in daily life.
"He just doesn't understand the stuff we have to go through. I thought I'd put her on blast so she got a little taste of what we have to go through," he said.
According to the Times, other students were making anonymous Google spreadsheets that included "students' full names, school information, social media profiles, contact information, the college they plan to attend if available and sometimes screenshots or an overview of their racist behavior."
A submitter of the Black at Williston account felt like they were being treated as a prop by photographers solely for the school to demonstrate diversity.
"Throughout my years at Williston my friends and I were used as props at every event that a photographer was present," the submitter said. "It wasn't until our junior/senior year that we realized that the school was using us kids to show off their 'diversity.'"
Some Williston alumni too felt they were being "treated as numbers for [Williston's] statistics rather than people."
The Black at Williston account not only provided a platform for Black current students and alumni, but also all other minority groups, including Latin Americans, Asians, and Jews.
Leave a Comment