Rio Oshima: Talent Triple Threat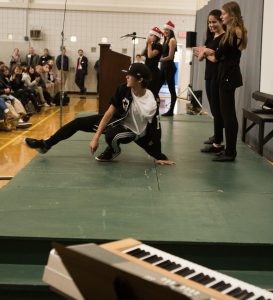 Some people sing, some play an instrument, some dance. Rio Oshima does all three, and he's better than most people you know.
Rio, from Tokyo, Japan is an 18-year-old junior at Williston, and an inspiring musician and dancer. After dancing for a little under three years, he has amazed everyone in school meeting and numerous dance competitions in New York. Faculty members and students see Rio all over campus practicing.
Rio plans to pursue a career in music and is trying out for "America's Got Talent" in 2018. Rio is also passionate about being a pianist and a singer.
Rio has been playing the piano since he was five years old and taking lessons for eleven years. Rio's love for singing grew at Williston.
"I became serious about singing when I became a sophomore at Williston," he said. He has taken lessons for the last seven months to improve and learn even more.
Rio said all the music he did was his favorite, and he didn't need a reason for that: "I love it and when I do it, I just feel good." His favorite genres include pop, hip hop, dubstep, classical, ballads and R&B; his role model is Michael Jackson. Determined to follow his music dream, Rio said, "I want to be a top artist in the world, and I want all people to be happy through my music and dance. I want my songs to be on the Billboard charts."
Connor Power '18 lives in the same dorm as Rio. "Rio dances for four hours in the common room on a Sunday morning," Connor said. "He goes from eight in the morning until about noon without stopping." Rio's dance is contagious and inspiring to watch, Connor said. His energy is vibrant throughout the dorm and all over campus.
Billy Smith '18, who lives across the hall from Rio, stated, "He creates a positive environment, and you can see he works hard and has a passion for it."