Aruna Goldstein's Golden Touch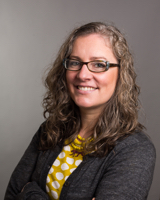 Hang on for a minute...we're trying to find some more stories you might like.
The majority of the colorful, vibrant printed material you see around campus all begin in a small out-of-the-way office located in the Admissions building.
Aruna Goldstein is the Director of Design at Williston, which puts her in charge of making graphic designs such as the Viewbook, annual reports, the alumni magazine, and most of the banners around campus.
As a visible presence around Williston, Goldstein herself may fly under the radar, but her role here, and the work she produces, is crucial to the beauty around the quad and the recruitment of prospective students.
The Viewbook and annual reports help recruit students who are touring Williston so that they can see what Williston has to offer, such as pictures of the campus and statistics about teacher to student ratios.
Before coming to Williston in 2012, Goldstein attended Hampshire College in Amherst, Mass, and then lived in New York City for 14 years.
The Director of Design title entails being able to visualize a good, finished product, she said, along with the ability to use programs like Adobe Photoshop and Illustrator.
"You need to be visually intelligent," Goldstein said. "There's a lot of conceptualizing, you need to be able to visualize the product in order to create a story and a mood. You have to care about aesthetics."
Goldstein also plays a huge role in the recruitment of prospective students through the Viewbook.
"I want [prospective students] to see the appeal of Williston," she said. "I want the writing to be reflected by the imagery and I want it to be beautiful."
"Ultimately, I want to engage people and get their attention," she added. "I want to be able to reflect the beauty of Williston into a book for prospective students."
The future of graphic design is only getting better at Williston, she said. She detailed several new projects she's working on this fall, including the Middle School Viewbook, which was recently finished.
She outlined other projects she's working on, including the Fall Bulletin, the Annual Report for next year, and future quad banners which will line the school driveway.
Kate Snyder, Communications Writer and Coordinator, and Goldstein's co-worker, said it is very fun working with her.
"It's great working with her," said Snyder. "She uses a lot of photos for her job, and I work with the photographer coordinators. I coordinate which photos she has in mind and match them with text,"
"It is challenging to print pieces that are really high quality," Snyder added, "and [Goldstein's] mind has a lot to do with that."